UK PM Rishi Sunak, wife Akshata Murty light diyas as they host special Diwali event | SEE PHOTOS
Sunak and his wife, Akshata Murty, celebrated Diwali with members of the Hindu community at 10 Downing Street. The social media post was accompanied by images of Sunak and Murty lighting traditional lamps, or diyas, at their official residence.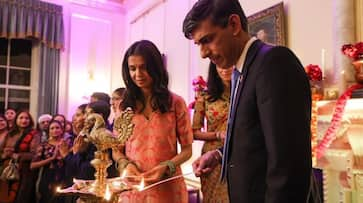 British Prime Minister Rishi Sunak hosted a special ceremony at 10 Downing Street ahead of the internationally observed Hindu holiday of Diwali, extending good wishes to the Hindu population in the UK and throughout the world. Hindu community members visited Sunak and his wife, Akshata Murty, at 10 Downing Street for the happy occasion.
Visuals shared by Downing Street on X showed the UK PM and his wife, Akshata Murty, lighting diyas, surrounded by a large number of people who had come to join the celebration. 
"Tonight Prime Minister Rishi Sunak welcomed guests from the Hindu community to Downing Street ahead of Diwali – a celebration of the triumph of light over darkness. Shubh Diwali to everyone across the UK and around the world celebrating this weekend!" Sunak's office said in a social media post.
The statement from the office of the UK prime minister said, "Shubh Diwali to everyone across the UK and around the world."
Diwali is the Hindu festival of lights which symbolises the spiritual victory of light over darkness, good over evil. This year, Diwali will be celebrated on November 12.
Sunak also congratulated PM Modi on Team India's strong performance in the ongoing Cricket World Cup. During a recent phone call, Prime Minister Narendra Modi and his UK counterpart Rishi Sunak talked about the status of the Free Trade Agreement. During their recent visit to India for the G20 Summit, the couple offered prayers at the famous Akshardham Temple in New Delhi.
Last Updated Nov 9, 2023, 9:11 AM IST