Titanic's historical dinner menu fetches over Rs 80 lakh at auction!
A Titanic first-class menu, sold at auction for Rs 84.5 lakhs, offers a glimpse into the ill-fated voyage's dining choices. Meanwhile, Colombia implements a pioneering 'Junk Food Law,' introducing heavy taxes on high-fat content foods to address health issues. This innovative move aims to regulate salt and fat intake, potentially serving as a global model for health-focused laws.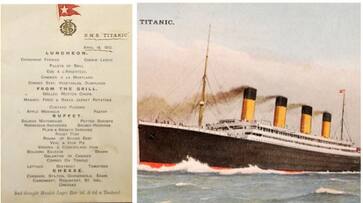 A historic menu card, once served to first-class passengers aboard the ill-fated Titanic, has been sold at auction for a staggering Rs 84.5 lakhs.
Henry Aldridge Wiltshire, overseeing the auction of Titanic artefacts, including this menu card, acquired it from a 1960s photo album belonging to historian Stephenson Dominion. The Guardian newspaper reported that the card, marked with the iconic white star symbol, was water-soaked but preserved.

Kate Winslet's iconic Titanic overcoat, bearing water stains, up for auction; expected to fetch over $100,000
This precious artefact showcases the dining options served in section A.12, featuring items like eggs, jam, chicken, beef, rice, and more. Notably, the RMS Titanic tragically sank on its maiden voyage in the Atlantic Ocean on April 14, 1912, making this menu card a rare relic from that fateful journey.
Heavy tax imposed on Junk food in Columbia
In Columbia, the government has introduced a groundbreaking 'Junk Food Law,' marking a first in the world. The law imposes an additional tax, starting at 10%, on high-fat content foods, slated to increase to 25% by 2025.

Titanic submersible was 'mousetrap for billionaires', claims friend of OceanGate CEO Stockton Rush (WATCH)
Colombian citizens consume an average of 12 grams of salt per day, the highest in Latin America. This heavy salt intake contributes to rising health issues like high blood pressure and obesity. The 'Junk Food Law' aims to curb these alarming health concerns by regulating salt and fat intake.
Studies from Colombia highlight the risks associated with high-fat diets, especially concerning childbirth. To further tackle health concerns, the government is contemplating additional taxes on sugary, unhealthy foods. This progressive legislation is positioned as a model for other nations aiming to implement health-focused laws.
Last Updated Nov 13, 2023, 1:07 PM IST