Fact Check: Has Cristiano Ronaldo pledged support to Palestinians amid Israel-Hamas war? Here's the truth
Amid the ongoing Israel-Hamas war, a video of legendary Portuguese football Cristiano Ronaldo pledging support to Palestinians has gone viral on social media. Here's the truth about the viral video.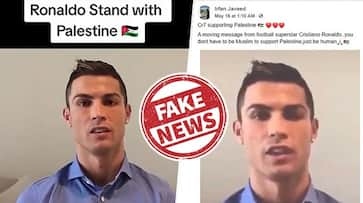 As the war between Israel and Hamas rages on, a video claiming that Portuguese football legend Cristiano Ronaldo expressing solidarity with Palestinians has gone viral on social media platforms. However, the video in question, which indeed features Ronaldo, was shared in 2016 in his capacity as a "Save the Children Global Artist Ambassador." In the video, Ronaldo delivers an inspirational message to children living in war-ravaged Syria.
The video initially shared on Facebook in South Africa, which has since been deleted, was originally published on May 16, 2021. It garnered over 420 shares before its removal. The caption on the post read, "Cr7 supporting Palestine. A moving message from football superstar Cristiano Ronaldo... you don't have to be Muslim to support Palestine, just be human (sic)." A similar video was also shared with the same claim in other posts.
Also read: 'Everything is okay': IDF's safety reassurance to trapped mother and son after Hamas massacre (WATCH)
The reality, however, is that the video was presented in a misleading context. It features Ronaldo offering words of hope and encouragement to Syrian children enduring the devastating impact of war. In the video, Ronaldo states, "This is for the children of Syria, we know that you've been suffering a lot. I am a very famous footballer, but you are the true heroes. Don't lose your hope, the world is with you. We care about you, I am with you."
Our investigation has confirmed that this video was originally posted by Ronaldo on December 23, 2016, on his Facebook, Twitter, and Instagram accounts. Save the Children, a prominent humanitarian organization, also published an article about Ronaldo's video message, underscoring its purpose.
The Syrian conflict, which had been ongoing for over a decade, has had devastating consequences, displacing more than 11 million people both within Syria and abroad. Tragically, almost 400,000 individuals have lost their lives since the conflict's inception. The year 2016, when Ronaldo recorded his message, marked a particularly grim chapter in the conflict, with more children losing their lives than in any previous year of the Syrian crisis. The United Nations Children's Emergency Fund (UNICEF) reported that at least 652 children perished in Syria in 2016, representing a 20 percent increase from the prior year.
A few days ago, another post allegedly of Ronaldo holding up a Palestinian flag on the football ground went viral on social media. "Portuguese footballer Cristiano Ronaldo Supporting a Palestine during Match," read a post on X, formerly Twitter.
By performing keyword and reverse image search on Google we found that the media organisation Middle East Eye uploaded the viral video on YouTube on 2 December, 2022 with a title, "World Cup: Morocco's Jawad El Yamiq celebrates win over Canada with Palestinian flag".
Images capturing Jawad El Yamiq proudly hoisting the Palestinian flag are also available on the well-known stock image platform, Getty Images. The image description specifies, "Morocco's defender #18 Jawad El Yamiq waves the Palestinian flag during the Qatar 2022 World Cup Group F football match between Canada and Morocco at the Al-Thumama Stadium in Doha on December 1, 2022, marking their advancement to the round of 16."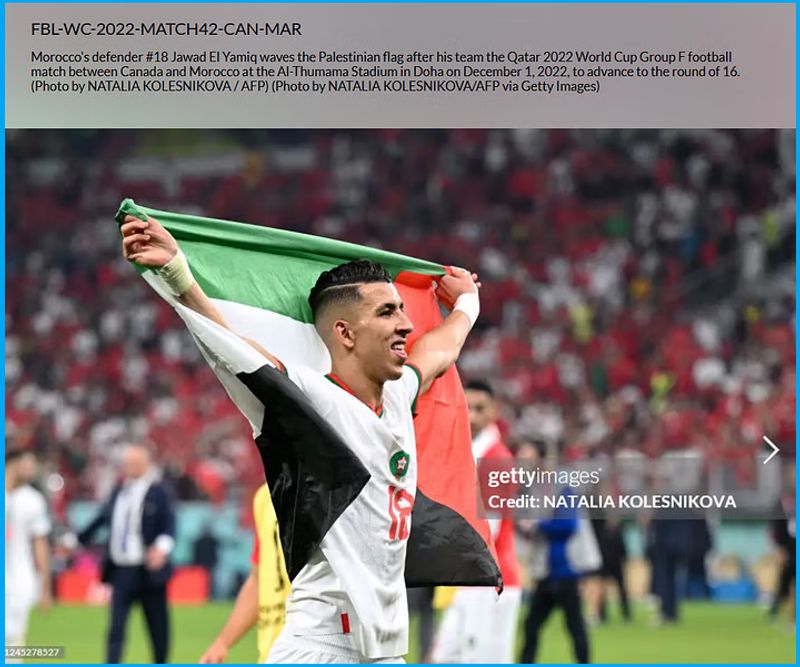 With this in consideration, we conducted further keyword searches and came across reports from reputable sources such as CNN and The Indian Express. These reports, dated December 7, 2022, highlighted that following Morocco's victory over Spain in the FIFA World Cup Qatar 2022, the Moroccan team once again exhibited a Palestinian flag on the field.
Therefore, it is evident that the viral video does not feature Cristiano Ronaldo as erroneously claimed.
Also read: Amid war with Hamas, Israel sets 3-hour deadline for Gaza civilians to relocate as it plans ground attack
Last Updated Oct 15, 2023, 3:43 PM IST