Hamas arsenal exposed: Inside the cache seized by Israel Defence Forces (WATCH)
The article delves into the significant discovery by the Israel Defence Forces of a substantial Hamas arsenal, showcasing homemade weaponry and the group's level of preparedness for long-term operations within civilian areas.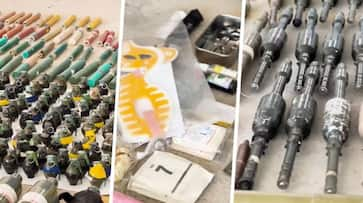 In a recent video released by the Israel Defence Forces (IDF), a startling revelation came to light about the extensive cache of weaponry and equipment that Hamas terrorists brought with them. This significant discovery provides insight into the extent of Hamas's preparedness for long-term operations within civilian areas.
Also read: 'Free Palestine' call erupts in Karachi amid Israel-Hamas war; protesters seek to join Gaza frontline (WATCH)
"These confiscated weapons are only 20% of the ones used by Hamas to kill Israelis. In order to prevent further attacks, the IDF will see to the removal of Hamas' terrorist infrastructure and weapon manufacturers in Gaza," wrote IDF in a post shared on X along with a video.
The video, showcasing the materials captured by the IDF, reveals that the munitions displayed represent only about 20 percent of what the Hamas terrorists had transported. This substantial arsenal includes a wide variety of armaments, such as shape charges, rockets, rocket-propelled grenades (RPGs), hand grenades, and a plethora of other weaponry.
What makes this discovery even more significant is the fact that the materials are adorned with homemade symbols, underlining their origin as products of Hamas's own production. This homegrown approach to weapons manufacturing points to a deeply entrenched and self-sustaining network within the Hamas organization.
Also read: 'Watch what is happening to Hamas': Israel warns Hezbollah amid exchange fire at Lebanon border
The IDF's video paints a picture of the sheer scale of the challenge faced by Israeli forces when dealing with Hamas, particularly in densely populated areas. The presence of this significant cache of weaponry within civilian environments further underscores the complexity of military operations in the region.
Additionally, the video highlights the medical equipment and food supplies found amidst the weapons. This indicates that the Hamas terrorists were not merely planning for short-term engagements, but they had been prepared for sustained operations within villages. This strategic choice to embed themselves within civilian populations further exacerbates the danger and complexity of the situation for both the IDF and local residents.
The revelations from the IDF video serve as a stark reminder of the ongoing security concerns and challenges faced by Israel, particularly in its ongoing conflict with Hamas. It sheds light on the need for vigilance and the ongoing efforts to maintain security in a region fraught with complex geopolitical dynamics.
Also read: Explained: How Hamas' underground tunnels pose a complex challenge for Israel's defence
Last Updated Oct 16, 2023, 10:55 AM IST