Explained: How Hamas' underground tunnels pose a complex challenge for Israel's defence
This article discusses how Hamas's extensive network of underground tunnels poses a multifaceted challenge for Israel's defence and military operations in the conflict with Gaza.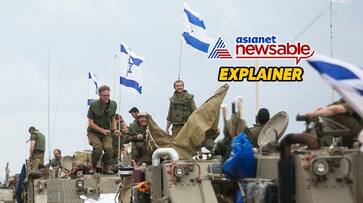 While Hamas may lack the technological firepower of the Israeli army, it boasts a formidable and unique asset: an extensive network of secret subterranean tunnels. These hidden passages have long been a source of concern for Israel and have spurred significant investments in defence measures.
Also read: Israel PM Netanyahu convenes emergency cabinet, vows to 'demolish Hamas' (WATCH)
Israel has spent over $1 billion constructing an underground barrier along its 60-kilometer border with the Gaza Strip and invested hundreds of millions more in a system to detect new tunnel construction, aptly named the 'Iron Wall' and 'Iron Spade.' These defences were designed to fortify Israel's territory, making it impervious to infiltration. However, as recent cross-border attacks have demonstrated, these hidden tunnels have played a role in supporting Hamas's incursions, including air, land, and sea offensives.
With Israel now signaling a potential ground invasion of Gaza, these tunnels pose a multifaceted challenge to its military retaliation. Hamas claims to be holding Israeli hostages in subterranean chambers, complicating the situation further.
Jonathan Conricus, an Israeli Defence Forces spokesperson, likened the Gaza Strip to having "one layer for civilians and then another layer for Hamas." Israel's goal is to penetrate the second layer constructed by Hamas, a task that is far from straightforward due to the secrecy surrounding the tunnel network.
In an attempt to gain an advantage, Israel invested in a tunnel-detection system developed by Israeli firms Elbit Systems and Rafael Advanced Defence Systems. These companies, known for their work on the Iron Dome missile defence system, sought to create a system capable of identifying tunnels. However, these sensors are not foolproof and face limitations in detecting tunnels that change direction or intersections, according to research conducted by the Institute for National Studies.
Scott Savitz, a military expert at the Rand Corporation, highlighted the effectiveness of tunneling as a way to undermine an opponent's dominance. This is because the opposing side remains uncertain about the number and location of the tunnels, only discovering those they have located.
Over the years, Hamas has utilized these tunnels to hide weapons, command facilities, and fighters. The passageways have evolved with sophisticated features, including ventilation shafts, electricity, and depths of up to 35 meters. Some tunnels even boast railroad tracks and communication rooms, with entrances often concealed in residential or public buildings.
Initially intended for smuggling goods and weapons from Egypt into Gaza, these tunnels have also served as conduits for cross-border raids and high-profile kidnappings, such as the 2006 abduction of Israeli soldier Gilad Shalit. In 2014, Israel launched a ground offensive in Gaza with the aim of eliminating this underground network.
Egypt also initiated efforts to destroy the tunnels about a decade ago, employing measures like flooding. Despite these challenges, Hamas's underground infrastructure remains a formidable obstacle, as it presents confined spaces, booby traps, and defenders' intimate knowledge of the environment, giving them a significant advantage should Israeli troops attempt to enter.
The subterranean labyrinth underscores the complex nature of modern conflicts and the need for innovative solutions to confront the hidden challenges presented by well-entrenched adversaries.
Also read: Thousands of Israeli soldiers gear up for ground operation in Gaza amid calls for civilian relocation (WATCH)
Last Updated Oct 15, 2023, 7:40 PM IST