'Goal is clear, my job is to keep...' James Cleverly after being appointed as new UK home secretary
James Cleverly has been appointed UK home secretary after Suella Braverman was sacked over her comments about the police's handling of a pro-Palestinian march. After Braverman's sacking, Cleverly was seen entering Downing Street on Monday morning.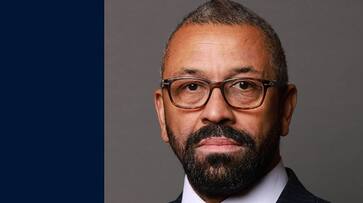 UK Prime Minister Rishi Sunak on Monday appointed James Cleverly as the new Home Secretary after he sacked Suella Braverman over her remarks on Palestine. Since September of last year, James Cleverly has held the position of Foreign Secretary; he will now assume responsibility for the Home Office.
"It is an honour to be appointed as Home Secretary. The goal is clear. My job is to keep people in this country safe," Cleverly wrote on X shortly after his appointment. This comes after British Prime Minister Rishi Sunak sacked Braverman as part of a wider reshuffle after she criticised the police's handling of a pro-Palestinian march.
The Conservative Party said that PM Sunak's reorganisation "strengthens his team in government to deliver long-term decisions for a brighter future" in a social media post. On Monday morning, following Braverman's dismissal, Cleverly was spotted walking into Downing Street.
Also Read | UK PM Rishi Sunak fires Indian-origin Home Secretary Suella Braverman over opinion piece
Cleverly, a British Conservative politician, who has been the Foreign Secretary since September last year. Cleverly retained his position under Sunak, having initially been appointed by Liz Truss.
Before his current role, Cleverly served as the Education Secretary for three months, during the final days of Boris Johnson's term. Earlier, from February to July 2022, he held the position of Minister of State for Europe and North America in the Foreign, Commonwealth, and Development Office (FCDO).
Simultaneously, he served as the Chairman of the Conservative party, sharing responsibilities with Ben Elliot from July 2019 to February 2020, while also holding the role of Minister without Portfolio.
Last Updated Nov 13, 2023, 5:46 PM IST