UK PM Rishi Sunak fires Indian-origin Home Secretary Suella Braverman over opinion piece
British Prime Minister Rishi Sunak has dismissed Home Secretary Suella Braverman following controversy over her critical opinion piece on the police's handling of a Palestinian solidarity demonstration in London. The article was published without approval from No 10 Downing Street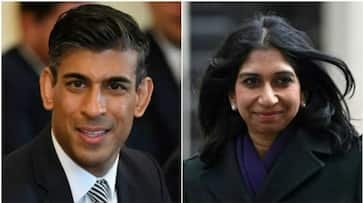 British Prime Minister Rishi Sunak has dismissed Home Secretary Suella Braverman in the aftermath of a contentious opinion piece she penned. The article, published in The Times without prior approval from No 10 Downing Street, criticized the police's handling of a Palestinian solidarity demonstration in London, sparking outrage and accusations of potentially exacerbating tensions. 
The incident occurred on Diwali night, coinciding with Armistice Day commemorations, and resulted in clashes between right-wing protesters and law enforcement, leading to injuries.
Braverman's piece, referring to the demonstration as a "hate march," stirred controversy, with critics asserting that her stance may have contributed to the escalation of street protests in London. The timing, juxtaposed with Armistice Day services, heightened the sensitivity of the situation.
The dismissal underscores the challenges faced by Sunak, who came under pressure to address the fallout from Braverman's statements. The Home Secretary's remarks not only strained relations within the government but also drew condemnation from fellow politicians, including Armed Forces Minister James Heappey. Heappey distanced himself from Braverman's comments, emphasizing the need to avoid second-guessing the Metropolitan Police and refraining from inflammatory language.
This marks the second time in 13 months that Braverman has been removed from the Home Secretary position. The first instance occurred in October 2022 when she breached ministerial rules by sending a sensitive migration blueprint from her personal email address. Sunak's predecessor, Liz Truss, initially forced Braverman's resignation, only for her to be reinstated six days later after Sunak assumed the role of Prime Minister.
In the aftermath of her dismissal, Braverman expressed gratitude for the opportunity to serve as Home Secretary, noting that she would provide further insights in due course. The controversy surrounding her recent actions highlights the ongoing challenges within the UK Cabinet and the complexities of navigating sensitive issues, especially those involving international affairs and protests.
Last Updated Nov 13, 2023, 3:26 PM IST