Experts bring mummified 'alien' corpses back to Mexican Congress with fresh proof of authenticity
During the session on Tuesday, new visual evidence of the mummified 'alien' corpses in the form of photographs and X-rays was presented to the Mexican Congress, purportedly substantiating the claim of the bodies' authenticity.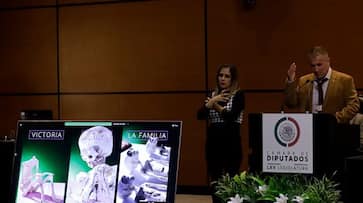 Mexico's Congress became a focal point once more as alien enthusiasts reconvened for a subsequent session, asserting possession of extraterrestrial remains. Notably, controversial UFO enthusiast and journalist Jaime Maussan brought a consortium of doctors affirming that the bodies were indeed once-living organisms. Some experts purported to have studied five analogous specimens over a span of four years.
During the session on Tuesday, new visual evidence in the form of photographs and X-rays was presented to the Congress, purportedly substantiating the claim of the bodies' authenticity. The experts also insinuated a hybrid DNA, suggesting a potential connection to human ancestry for these entities.
"We have a hybrid being, we have other beings that are apparently more evolved than us…we are facing something truly extraordinary," said Maussan.
Maussan's Assertion of Authenticity and Presentation of Evidence
Although Maussan and his team asserted the authenticity of the mummified corpses, named Clara and Mauricio, stating they were 'real,' the experts neither presented an origin story nor suggested that the bodies were 'extraterrestrial.' During Tuesday's session, Maussan concentrated on substantiating the bodies' authenticity by presenting insights from medical experts.
"None of the scientists say [the study results] prove that they are extraterrestrials, but I go further," he said, suggesting that they could be evidence of non-Earthly life forms.
Maussan assembled a team of medical experts who presented a letter signed by 11 researchers from San Luis Gonzaga National University in Ica, Peru, affirming the bodies' authenticity.
Expert Scrutiny and Criticism of Claims
Anthropologist Roger Zuniga of San Luis Gonzaga National University in Ica, Peru, emphasized on Tuesday that there was no human intervention in the physical and biological formation of these beings. However, the letter explicitly stated that while the team didn't suggest the bodies were 'extraterrestrial,' it did not provide information on the origin of the remains.
Argentine surgeon Celestino Adolfo Piotto testified, asserting he reviewed the test results on the bodies and put forth an unusual argument, suggesting that they were an advanced iteration of contemporary human beings, labeling them as 'our descendants.'
In a distinct moment during the session, Mexican rapper Claudio Yarto shared his personal encounters with UFOs and concluded his speech with a rhyme, prompting applause from the audience.
Despite Maussan's firm assertion of providing 'proof,' the presentation encountered widespread criticism from numerous experts who dismissed it as a gimmick, aligning with the prevailing global belief.
The experts referenced analogous studies on comparable remains, revealing them to be crafted from a combination of animal and human bones.
In response to inquiries about those specific studies, Zuniga suggested the likelihood that the specimens might be fabricated. However, he reiterated that he and fellow researchers at the university had scrutinized similar specimens and had ascertained their authenticity.
Legislator's Outrage Over the 'Spectacle'
During the subsequent discussion on extraterrestrial life, legislator Cynthia Lopez (PRI) expressed indignation toward the 'spectacle' unfolding in Congress.
"We see Jaime Maussan here in the Chamber of Deputies. Sir, we are discussing the budget; it is not for you to come and do your lies and your things," Lopez said.
Lopez added, "This is the people's house; we are discussing the budget. They haven't given a single peso to Acapulco, and you are visiting here. We do not want Jaime Maussan in the Chamber of Deputies. Jaime Maussan out with his lies, there are priorities in the Chamber of Deputies, which is the budget for Acapulco."
In September, Maussan and certain Mexican lawmakers became objects of global derision after he exhibited two boxes purportedly containing mummies discovered in Peru.
The researchers made extraordinary assertions concerning the corpses found in Cusco, Peru, and showcased in windowed boxes, suggesting they were not linked to 'our terrestrial evolution.' According to Mexican media reports, 30 percent of their genetic makeup remains 'unknown.'
Under oath in September, Maussan, who has previously been linked to discredited alien theories, insisted: "These specimens are not part of our terrestrial evolution [...] These aren't beings that were found after a UFO wreckage. They were found in diatom [algae] mines and were later fossilized."
He later added, "Whether they are aliens or not, we don't know, but they were intelligent and they lived with us. They should rewrite history. We are not alone in this vast universe, we should embrace this reality."
Elaboration on Bodies' Characteristics and Features
Reported by El País, the bodies displayed during the congressional session exhibited a humanoid shape with a neck that could retract and elongated skulls, presenting 'characteristics' resembling those 'typical of birds.'
Additionally, presenters in September noted the bodies' features, stating they had robust yet lightweight bones, lacked teeth, and visibly displayed three fingers.
Following the initial hearing, Maussan claimed that carbon dating conducted by the National Autonomous University of Mexico (UNAM) confirmed the bodies to be over 1,000 years old.
In 2017, Maussan made similar claims in Peru; however, a report by the country's prosecutor's office contradicted these assertions, stating the bodies were essentially 'recently crafted dolls' covered with a mix of paper and synthetic glue to mimic skin.
The report further emphasized that the figures were most likely man-made and unequivocally stated that 'they do not represent the remains of ancestral aliens as they have attempted to portray.'
At that time, the bodies were not publicly unveiled, leaving uncertainty about whether the ones showcased in Congress were the same as those previously mentioned.
Last Updated Nov 9, 2023, 3:16 PM IST