Eminem asks Vivek Ramaswamy to not use his music in US presidential campaign
Eminem has issued a formal request to Republican presidential hopeful Vivek Ramaswamy, urging him to refrain from using his musical creations in his political campaign. The development was brought to light as BMI, a prominent performing rights organisation, made public a communication.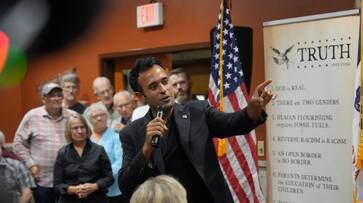 Rap star Eminem has formally asked Republican presidential hopeful Vivek Ramaswamy to stop using his music on the campaign trail, according to a letter made public on Monday. Earlier during this month, Ramaswamy gave an impromptu performance of Eminem's 'Lose Yourself' onstage during a campaign event in Iowa. A video of Ramaswamy singing along to Eminem's "Lose Yourself" at the Iowa State Fair went viral, giving him a boost in the Republican primary contest.
Broadcast Music Inc. (BMI), a music licenser, claimed in a letter initially reported by the Daily Mail, that it had received a formal request from Eminem requesting that the 38-year-old contender cease using his song. 
Also Read | Russian President Vladimir Putin speaks to PM Modi over the phone; Space projects, BRICS, G20 figure in talks
The organisation further conveyed the artist's request for a complete removal of his works from any agreements with Ramaswamy's campaign, media reports reported.
Vivek Ramaswamy, a prominent figure in the tech industry with no prior political experience, has been gaining traction in various public opinion polls. Ramaswamy has observed a noteworthy surge in national polls for the 2024 Republican presidential primaries, currently maintaining an average of approximately 10.1 per cent, according to FiveThirtyEight.
As an undergraduate at Harvard, his side hustle was rapping libertarian-minded lyrics with the stage name "Da Vek."  In recent weeks.
Also Read | 3,000-year-old tomb unearthed in Peru; here's what archaeologists found there
Famous musicians including Pharrell Williams, Rihanna, Aerosmith, and Adele, as well as the Prince heirs, protested that their songs were played at Donald Trump rallies without their consent during the previous two elections. Even threatening legal action, the Rolling Stones demanded that the Trump campaign stop using their timeless song "You Can't Always Get What You Want."
Last Updated Aug 29, 2023, 10:06 AM IST