3,000-year-old tomb unearthed in Peru; here's what archaeologists found there
The 3,000-year-old tomb was possibly dedicated to an esteemed religious figure from ancient Andean civilization, known as the "Priest of Pacopampa." This burial site, concealed under layers of ash and adorned with decorated ceramics and seals, sheds light on the rituals and status of this ancient society.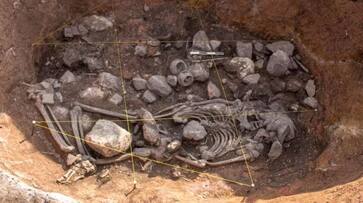 Archaeologists have made a remarkable discovery in northern Peru. A 3,000-year-old tomb, believed to have honoured a high-profile religious leader from ancient Andean society, has been located by archaeologists. Known as the 'Priest of Pacopampa', a reference to the highland archaeological region where the tomb was located, this ancient priest's final resting place was concealed beneath six layers of ash mixed with dark earth. 
The tomb was adorned with decorated ceramic bowls and seals that indicated the use of ancient ritual body paint, a practice associated with individuals of high status, according to a statement from Peru's Culture Ministry released on August 27.
Within the tomb, two seals were also uncovered along the upper edges. One featured an anthropomorphic face oriented towards the east, while the other displayed a jaguar design facing west.
The Pacopampa Archaeological Project has been conducting research in this area since 2005, as noted by the ministry. Notably, geological layers suggest that this priest, estimated to have been interred around 1,200 BC, predates by approximately five centuries the tombs of the 'Lady of Pacopampa' and the 'Priests of the Serpent Jaguar of Pacopampa', which were discovered in 2009 and 2015, respectively.
Yuji Seki, the Project Leader, described the tomb as quite sizable, measuring nearly two meters (6.56 feet) in diameter and 1 meter (3.28 feet) in depth. Seki further observed that the male occupant of the tomb lay face down, with his upper body extended and his legs crossed, an unusual burial position.
Among the artifacts found within the tomb were various intact ceramic pieces and a bone shaped like a 'tupu,' a large needle used by ancient Andean communities to fasten female capes. This discovery is particularly intriguing as the tomb's occupant is male, suggesting significant cultural and leadership roles associated with this individual, according to Yuji Seki.
The ongoing work of the Pacopampa Archaeological Project has provided valuable insights into Peru's ancient history, shedding light on the lives and customs of its elite individuals from millennia ago.
Last Updated Aug 28, 2023, 2:52 PM IST