6,000 bombs weighing 4,000 tonnes dropped by Israel in Gaza so far; 3,600 Hamas targets attacked (WATCH)
"In the attacks, hundreds of terrorists were killed and over 3,600 targets were attacked. So far, about 6,000 bombs weighing 4,000 tons have been dropped on the Gaza Strip," stated the Israel Defence Forces amid the ongoing war with Hamas.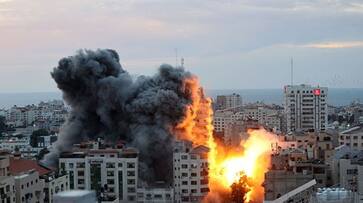 On the sixth day of the Israel-Hamas war, the Israel Defence Forces (IDF) on Thursday continued to launch a relentless and highly coordinated assault on terrorist targets throughout the Gaza Strip. The operation, which began in the early morning hours, saw dozens of fighter jets, helicopter gunships, and aircraft deployed in a sweeping and well-planned campaign.
Also read: 'What world needs to know': Israel unmasks how Hamas endangers Gaza civilians for their deadly agenda (WATCH)
The IDF's primary objective was to dismantle key elements of Hamas's terror infrastructure while eliminating some of its high-ranking operatives. The operation targeted not only active terrorists but also the command and control centers, strategic military facilities, munitions production sites, and leadership figures who have orchestrated attacks on the State of Israel.
The successful mission resulted in the elimination of a top Hamas commander and a group of operatives under his command, responsible for directing terrorism against Israel. Additionally, a combat management room of the Rafah Brigade in the southern Gaza Strip was destroyed. The IDF's precision strikes also heavily damaged central neighborhoods in the northern Gaza Strip, which had been used as gathering areas for Hamas terrorists.
Also read: 'Hamas is inhuman, Hamas is ISIS': Israel shares horrifying proof of babies murdered, burnt by terrorists
The strikes were particularly concentrated in Gaza City and its surroundings, where the leadership of Hamas is known to operate. The IDF's relentless assault inflicted heavy casualties on Hamas terrorists, with hundreds of them losing their lives. The decisive and well-executed operation sent a clear message that Israel will not tolerate threats to its security or the safety of its citizens.
"In the attacks, hundreds of terrorists were killed and over 3,600 targets were attacked. Among the targets attacked were command and control targets, strategic military infrastructures, munitions production sites, intelligence assets, leadership targets, naval superiority targets and rocket array targets," wrote IDF in a post shared on X, formerly Twitter.
As of now, the IDF has launched approximately 6,000 bombs weighing a total of 4,000 tons on the Gaza Strip. This level of firepower underscores the gravity of the threat that Israel faces from terrorist organizations like Hamas. It also demonstrates the IDF's unwavering commitment to protect its citizens from harm.
The operation was not only about responding to past threats but also about preventing future acts of terror. By eliminating key elements of Hamas's terror infrastructure, Israel hopes to disrupt the organization's ability to plan, coordinate, and execute attacks on its soil.
Also read: 'Death was a blessing': Father's agonising words as Hamas kills 8-yr-old daughter amid horrors of war (WATCH)
Last Updated Oct 12, 2023, 10:09 PM IST