'What world needs to know': Israel unmasks how Hamas endangers Gaza civilians for their deadly agenda (WATCH)
A video shared by Israel Defence Forces (IDF) sheds light into Hamas' tactics of indoctrinating civilians, exploiting humanitarian resources, and using civilian areas for military purposes, emphasizing the responsibility Hamas holds for the situation in Gaza amid the Israel-Gaza conflict.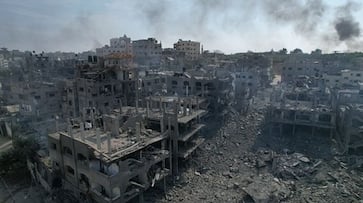 Amid the ongoing war with Hamas, the Israel Defence Forces (IDF) on Thursday shared a video showcasing the grim reality of life in Gaza and its civilians under the influence of the terrorists organisation. According to the IDF, the people of Gaza, especially innocent civilians, find themselves at the mercy of a ruthless and extremist organisation. The IDF added that every aspect of their lives is dictated and endangered by Hamas, whose primary objectives include the indoctrination of civilian children, the use of civilian infrastructure for military purposes, and the ruthless manipulation of the very people they claim to protect.
"THIS is what the world needs to know about the civilians in Gaza," wrote the IDF along with a video shared on X, formerly Twitter.
In the video shared, one of the most distressing revelations by the IDF is the systematic indoctrination of civilian children in terrorist training camps. Instead of nurturing young minds for a peaceful and prosperous future, Hamas molds them into potential recruits for their destructive agenda. This tragic reality robs children of their innocence, forcing them to embrace a life of violence and hatred.
The IDF noted Hamas does not stop at brainwashing children. They also seize humanitarian resources intended to alleviate the suffering of civilians and repurpose them for making rockets. These rockets are fired from civilian neighbourhoods, putting innocent lives at grave risk. It's a heart-wrenching abuse of resources meant to provide relief to those who desperately need it.
Also read: 'Hamas is inhuman, Hamas is ISIS': Israel shares horrifying proof of babies murdered, burnt by terrorists
Perhaps the most reprehensible tactic employed by Hamas is their deliberate embedding within civilian homes, schools, and mosques, the IDF added in the video. These sacred spaces are desecrated, as they become legitimate military targets due to Hamas's presence. By using these locations as shields, Hamas puts the lives of the very people they are responsible for in danger.
Israel further stated that the fundamental goals of Hamas are far from peaceful coexistence. Their extremist agenda includes disturbing declarations like "We must attack every Jew on planet Earth" and "Death to Israel." This extremist rhetoric drives their actions, and they have shown no hesitation in exploiting their civilian population to further their genocidal objectives.
"Hamas put the civilians they are responsible for in danger when Hamas started this war against Israel. Hamas, the genocidal terrorist organisation, is responsible for EVERYTHING that happens in Gaza," the video by IDF signs off.
Also read: 'Death was a blessing': Father's agonising words as Hamas kills 8-yr-old daughter amid horrors of war (WATCH)
Last Updated Oct 12, 2023, 9:49 PM IST