'Hamas is inhuman, Hamas is ISIS': Israel shares horrifying proof of babies murdered, burnt by terrorists
Amid the ongoing Israel-Hamas war, PM Benjamin Netanyahu on Thursday shared visual proof of babies brutally murdered by the Palestinian terrorist group.
Days after reports claimed that the Hamas terrorist group brutally murdered 40 babies, Israel PM Benjamin Netanyahu on Thursday shared a set of deeply disturbing photographs that depict horrifying scenes of babies who have been not only murdered but also subjected to unspeakable acts of burning. According to a post on X, Netanyahu stated that he shared these horrifying photographs with US Secretary of State Antony Blinken. The grim reality these photographs portray is a stark reminder of the brutality perpetrated by the terrorist organization Hamas, as the war entered its sixth day today.
Also read: 'Death was a blessing': Father's agonising words as Hamas kills 8-yr-old daughter amid horrors of war (WATCH)
The images are a grim testament to the inhumanity of Hamas, which has been responsible for countless acts of terror and violence in the Gaza Strip. It is essential to acknowledge that the victims in these photographs are innocent children, defenseless against the horrors of war. Their lives have been tragically cut short, leaving behind grieving families and a world that must confront the barbarity of such acts.
"Here are some of the photos Prime Minister Benjamin Netanyahu showed to US Secretary of State Antony Blinken," said the Israel PM in his latest post on X, adding "Warning: These are horrifying photos of babies murdered and burned by the Hamas monsters."
"Hamas is inhuman. Hamas is ISIS," Netanyahu further expressed.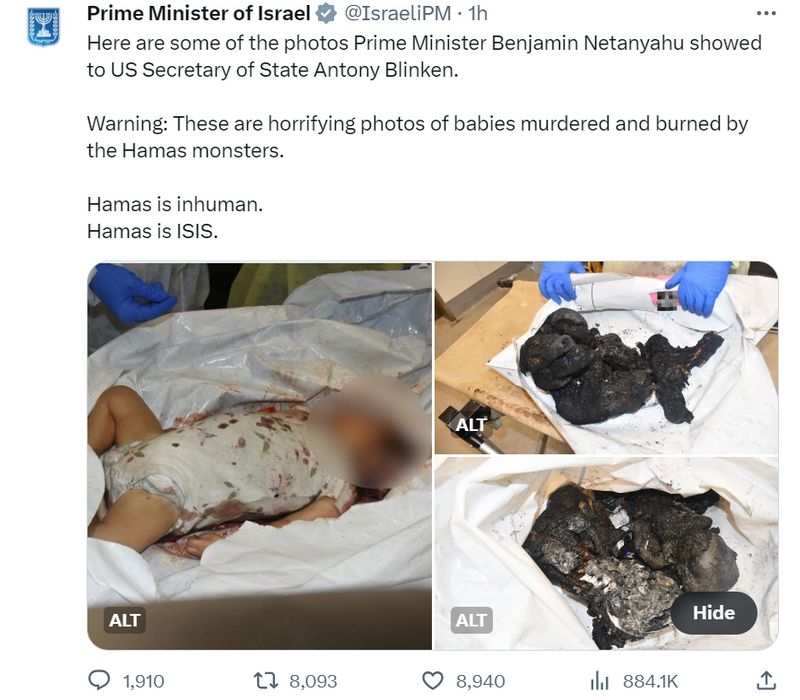 In an act of public solidarity with Israeli Prime Minister Benjamin Netanyahu, US Secretary of State Antony Blinken has strongly condemned the attacks by Hamas on Israel last Saturday. He drew unsettling comparisons, stating that these attacks had "harrowing echoes" of the Nazi massacres from history.
Blinken, who shares Jewish heritage, reaffirmed the unwavering support of the United States for Israel. He emphasized that the US commitment to Israel would endure, underscoring the significance of this alliance.
During his regional tour, Secretary Blinken has a crucial mission: to urge all parties involved, with a particular focus on Hezbollah, not to escalate the conflict further or open a new front. His efforts aim to promote stability and peace in the region.
Blinken, at a press conference in Tel Aviv, told Israelis: "You may be strong enough on your own to defend yourself. But as long as America exists, you will never, ever have to. We will always be there by your side."
Secretary Blinken expressed his concern about the loss of at least 25 American lives in the attacks carried out by Hamas. He underscored the strong bipartisan consensus in Congress to provide Israel with the necessary military equipment and support it required.
Emphasizing the importance of moral clarity during these trying times, Blinken acknowledged the legitimate aspirations of the Palestinian people. However, he firmly stated that Hamas did not represent these aspirations. In his upcoming visit, Secretary Blinken is scheduled to meet with Mahmoud Abbas, the leader of the Palestinian Authority, in the West Bank on Friday.
"Anyone who wants peace and justice must condemn Hamas's reign of terror," he said. "We know Hamas doesn't represent the Palestinian people or their legitimate aspirations to live with equal measures of security, freedom, justice, opportunity and dignity."
Blinken added, "I come before you not only as the United States secretary of state but also as a Jew. I understand on a personal level the harrowing echoes that Hamas's massacres carry for Israeli Jews and for Jews everywhere. It's impossible for me to look at the photos of families killed, such as the mother, father and three small children murdered as they sheltered in their home in Kibbutz Nir Oz, and not think of my own children."
Standing beside Blinken, Netanyahu said: "Thank you, America, for standing with Israel, today, tomorrow and always."
"Just as ISIS was crushed, so too will Hamas be crushed," Netanyahu said. "And Hamas should be treated exactly the way Isis was treated."
Last Updated Oct 12, 2023, 9:13 PM IST