Rafale fighter jets join the 'Falcons of Chamb and Akhnoor'
The 101 Squadron, based at the Hasimara airbase in West Bengal, is the second IAF squadron to be equipped with the Rafale.
Indian Air Force on Wednesday formally inducted the Rafale fighter aircraft into the No 101 Squadron at the Air Force Station at Hasimara in Eastern Air Command.
Addressing the personnel during the induction ceremony, IAF chief ACM RKS Bhadauria said that the induction of Rafale at Hasimara had been carefully planned, considering the need to strengthen IAF's capability in the Eastern sector.
Recalling the glorious history of the 101 Squadron, nicknamed 'Falcons of Chamb and Akhnoor', the IAF chief called upon air warriors to combine their commitment with the unmatched potential of the newly-inducted fighter jets.
ACM Bhadauria further said that the Squadron would dominate when and where required and intimidate the adversary with its sheer presence.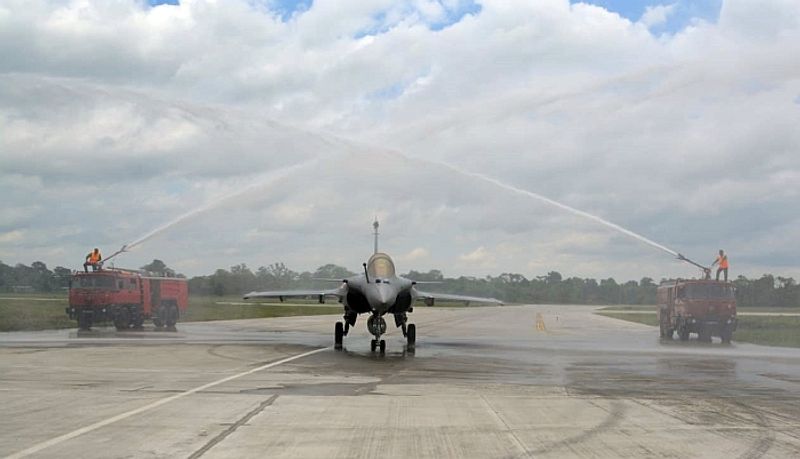 The 101 Squadron is the second IAF Squadron to be equipped with the Rafale. The Squadron, which was formed on May 1, 1949, has operated the Spitfire, Harvard, Vampire, Su-7 and MiG-21M aircraft in the past. The Squadron saw action in the 1965 and 1971 Indo-Pak wars.
In 2016, India signed a 59-crore deal with the French government for procurement of 36 readymade Rafale fighter aircraft under an inter-governmental agreement. Out of 36, India has so far received 26 Rafale aircraft.
The multi-role Rafale jets, built by French aerospace major Dassault Aviation, are known for air superiority and precision strikes.