French Open 2023: Alcaraz will win multiple Roland Garros titles in future, says finalist Djokovic (WATCH)
Novak Djokovic emerged victorious in a thrilling French Open semi-final against Carlos Alcaraz with a scoreline of 6-3, 5-7, 6-1, 6-1.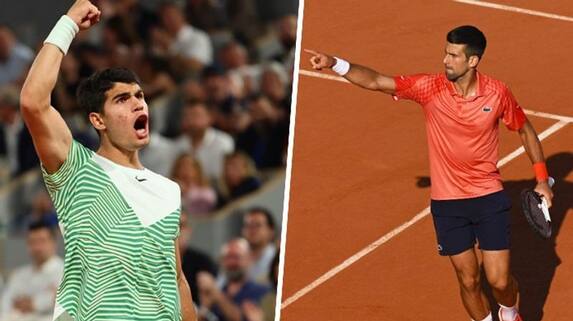 Novak Djokovic defeated Carlos Alcaraz in a highly anticipated semi-final match of the French Open 2023. After winning the first set, Djokovic faced a resilient Alcaraz who took the second set. However, Alcaraz began cramping in the third set, impacting his performance. Djokovic went on to win 6-3, 5-7, 6-1, 6-1 and in the post-match press conference, he was seen expressing sympathy for Alcaraz's physical struggles.
Djokovic praised Alcaraz's talent and predicted future success for him. Despite the victory, Djokovic acknowledged the challenging battle and reaching his physical limits. He will now face Casper Ruud in the final, aiming for a 23rd Major title.
"First and foremost, I have to say tough luck for Carlos. Obviously, at this level, the last thing you want is cramps and physical problems at the late stages of the Grand Slam. I feel for him, I feel sorry. I hope you can recover and he can come back very soon," he said.
"It's tough obviously for him to not know whether he should retire the match or finish the match the way he did. Congratulations to him for fighting spirit and hanging in all the way to the last point. Respect for that, great respect," he added.
Revealing his conversation with Alcaraz after the match, the 22-time Grand Slam champion said that the 20-year-old will bounce back from the setback quickly and also win a few titles on the hallowed red dirt in Paris.
"I told him at the net, he knows how young he is. He's got plenty of time ahead of him, so he's gonna win this tournament I'm sure many many times. He's an unbelievable player, incredible competitor, a very nice guy. So he deserves all the applause, all the support," he said.
Novak Djokovic's victory over Carlos Alcaraz further solidifies his impressive record at the French Open when winning the first set, now standing at 80 wins and only 4 losses. The last time Djokovic experienced defeat after winning the opening set in this tournament was during the 2015 final against Stan Wawrinka.
Also Read: French Open 2023: Djokovic defeats ailing Alcaraz to enter finals; says 'great respect' for World No.1 (WATCH)
Nevertheless, it wasn't an easy ride for Novak Djokovic against the young Spaniard. The Serb said that he reached his physical limits before Alcaraz's issues turned the match on its head.
"The first set and a half, I was really playing very well, had some chances. Then, I think towards the end of the second set, he was a better player, and he deserved to win the second set," he said."I think we were both at the physical limits to be honest," he added. 
"Towards the end of the second set, I wasn't feeling fresh at all, and we went toe-to-toe. I think it was quiet an even match one set all, and then this thing happened with his cramps in the second or third game of the third set."
Novak Djokovic will face Casper Ruud in Sunday's French Open final as he aims to win a men's record 23rd Major title. If he clinches his third career Roland Garros title, he will also replace Alcaraz atop the ATP rankings on Monday.
Last Updated Jun 10, 2023, 6:00 PM IST