'Real Madrid is going to fight hard to win the Super Cup' - Carlo Ancelotti after toiling Valencia conquest
Real Madrid was in for a toiling task against Valencia in Wednesday's 2022-23 Spanish Super Cup semis. After a 1-1 draw, Los Blancos edged out 4-3 on penalties. Meanwhile, Carlo Ancelotti asserted that his side would fight for the title.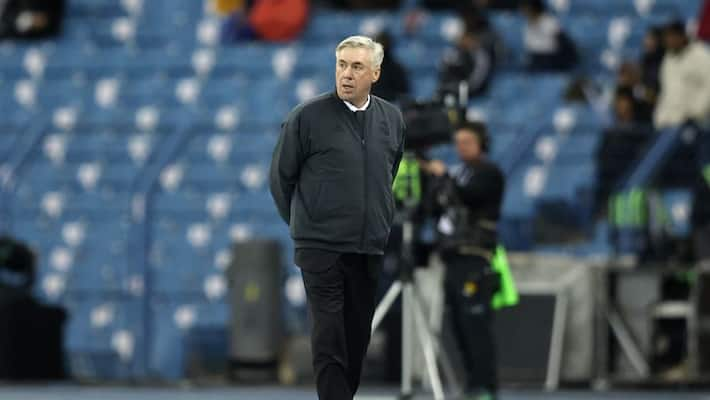 Spanish champion Real Madrid was up against fellow Spanish giants Valencia in the semis of the Spanish Super Cup 2022-23. Played at the King Fahd International Stadium in Riyadh, Los Blancos were made to work hard, as it was 1-1 at full time. While Karim Benzema put Madrid ahead in the 39th minute through a penalty, Samuel Dias Lino levelled it in the 46th through an assist from Toni Lato. After another hard-fought 30 mins in the extra time, it was eventually settled in the penalty shootout, with Benzema, Luka Modric, Toni Kroos and Marco Asensio hitting the target for Los Blancos.
Following the hard-fought win, Madrid head coach Carlo Ancelotti affirmed that his side would fight it out for the title. "It hasn't been a physical problem because, in extra time, we've done better than them. We're not at the top, but it's normal. Some players started a little while after the World Cup. We've put players on the limit like [Ferland] Mendy and [Dani] Carvajal. We wanted to reach the final, and that's what we've done. It's a different moment from last year, but I think we will fight hard to win the Super Cup," he told the media, reports FotMob.
ALSO READ: LIGUE 1 2022-23: 'IMPORTANT TO HAVE MESSI BACK AT THE HEART OF OUR GAME' - GALTIER AFTER PSG TRUMPS ANGERS
"I put the three players with the most experience, the best. The last one was Vinicius [Junior], and it is better that he did not shoot. [Eduardo] Camavinga has had a blow to the knee, and [Eder] Militao is dizzy and is fine. Lucas [Vazquez] has a sprain that is the most serious. I don't know if he will be in Sunday's game," concluded Ancelotti.
Madrid will now await arch-rival Barcelona or Real Betis in the final, as the latter two meet at the same venue on Thursday. However, Los Blancos would not be somewhat worried as Wednesday's victory came at the cost of Camavinga, Militao and Vazquez sustaining injuries during the contest.
Last Updated Jan 12, 2023, 1:02 PM IST