Liverpool star Luis Diaz's father freed by Colombian guerrillas after 12-day ordeal (WATCH)
The Colombian Football Federation have confirmed the father of Liverpool star Luis Díaz has officially been released from captivity.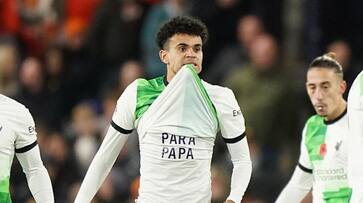 After nearly two weeks in captivity, the father of Liverpool footballer Luis Díaz, who had been abducted by a guerrilla group in Colombia, has been released. On Thursday afternoon, members of the National Liberation Army (ELN) handed Luis Díaz Sr over to representatives of the Catholic church and the United Nations, putting an end to nearly two weeks of international speculation about his whereabouts and mounting concern for his safety.
The Colombian Football Federation have confirmed the father of Liverpool star Luis Díaz has officially been released from captivity. "The Colombian Football Federation thanks the National Government, the Military Forces and the National Police, as well as all the institutions and officials that made the release of Luís Manuel Díaz, father of our player Luís Díaz, possible," read a statement confirming Luís Manuel's release on Thursday.
"Football as a sporting discipline symbolises talent, dedication, teamwork and the intrinsic values ​​of human beings. In Colombia it must continue to be a benchmark for entertainment, healthy competition, unity and joy. Therefore, we insist on the need to maintain this activity, as well as those who are involved in it, in the sporting and administrative part, and their families, outside of any scenario other than sports," it added.
"Behind a ball, the dreams and illusions of boys and girls, young people, women, men and adult soccer players, their loved ones and an entire country roll. Football is passion in peace. Let no one ever think of attacking that reality again!"
Luis Díaz Sr and his wife were kidnapped on October 28 by armed individuals in their hometown of Barrancas, located in Colombia's northern La Guajira state. While Cilenis Marulanda was released shortly after the abduction, Luis Díaz Sr was transported away on a motorcycle.
Initially, local reports suggested that Díaz had been taken by the local mafia. However, the true identity of his captors was unveiled on November 2 when government officials negotiating with armed groups confirmed that the ELN, the country's oldest active guerrilla group, was holding Díaz hostage.
On Thursday, local television channels aired footage of Luis Díaz Sr at an airstrip in Valledupar, a city in Colombia's Cesar province, after he was transported there by helicopter.
The government's negotiating team, engaged in peace talks with the ELN, expressed their satisfaction in a statement over Díaz's release, emphasizing his safety. However, they condemned the kidnapping, stating that it should never have occurred.
"The current process with the ELN has advanced like no other until today. Regardless, our delegation considers that the kidnapping of Luis Manuel Díaz has placed our dialogue in a critical situation and because of it, the time has come to take decisions to eliminate kidnapping," the statement said.
On the same day, leaders of the ELN made a commitment to release the 56-year-old, sparking optimism regarding his imminent freedom. However, Díaz's family, along with people in Colombia and football enthusiasts worldwide, had to endure nearly another week of anxious waiting for news of his liberation.
Prior to this, Colombia's president, Gustavo Petro, had censured the armed rebels for needlessly endangering Díaz's life and undermining the peace negotiations with the government.
"There is a willingness expressed by the [ELN's leadership] to release him as soon as possible but the hours pass and, as time passes, the circumstances in which Mr Diaz is in become very dangerous," Petro told journalists in Washington DC last Friday.
During this week, Díaz's family urgently sought evidence to confirm that the 56-year-old was still alive, as concerns for his safety continued to escalate.
The ELN has attributed the delays to the Colombian military, which has been conducting extensive searches in a mountainous region bordering Venezuela to locate Diaz's whereabouts.
The details of who facilitated the liberation of Diaz Sr and whether the armed rebels received any form of payment in exchange for releasing the father of the football star remain uncertain.
In January 2022, Díaz made a €40 million move from Porto to Liverpool, swiftly establishing himself as one of the club's most skilled players and the shining star of the Colombian national team. Although the 26-year-old was initially absent from Liverpool's squad for matches against Bournemouth and Nottingham Forest, he made a comeback on Sunday in the game against Luton, scoring a last-minute equal
Last Updated Nov 9, 2023, 10:14 PM IST