Kylian Mbappe achieves scoring milestone with a historic goal for PSG
Kylian Mbappe has once again etched his name into football history, as he netted his 250th club goal in a thrilling match against Brest.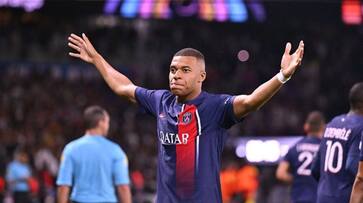 Kylian Mbappe's recent goal for PSG against Brest has added yet another remarkable achievement to the young phenom's illustrious football career. Remarkably, at just 24 years old, this goal marked his 250th club goal. His journey began in February 2016 when he scored his first club goal for Monaco, and he continued to add 26 more before his move to PSG, where he has now accumulated an impressive tally of 223 goals. Notably, this incredible feat is complemented by an additional 43 goals scored for his national team, which notably includes a stunning World Cup final hat-trick.
In addition to this milestone, Mbappé now boasts 173 Ligue 1 goals to his name, positioning him as the joint 11th top scorer in the competition's history, alongside Hassan Akesbi. Furthermore, his impeccable form continues, with nine goals from nine league games this season, underscoring his remarkable scoring prowess.
Kylian Mbappe's upcoming milestones to conquer:
- 300 Career Goals (Just 7 goals away)
- 250 Club Goals (A single goal away)
- 50 UEFA Champions League (UCL) Goals (8 goals to go)
- 30 UCL Assists (8 assists to reach)
- 200 Goals in Top 5 Leagues (28 goals to attain)
- 150 Career Assists (27 assists to complete)
- 500 Career Goals/Assists (87 to reach the milestone)
Also Read: Premier League 2023: Manchester City dominates Manchester United with a 3-0 victory at Old Trafford
Last Updated Oct 30, 2023, 12:16 AM IST