'For you, King': Real Madrid star Rodrygo wins hearts with tribute to Pele in Copa del Rey victory
Rodrygo scored in the second half and celebrated by honoring the late Brazilian legend Pele as Real Madrid edged fourth-division club Cacereno 1-0 to advance to the round of 16 of the Copa del Rey on Tuesday.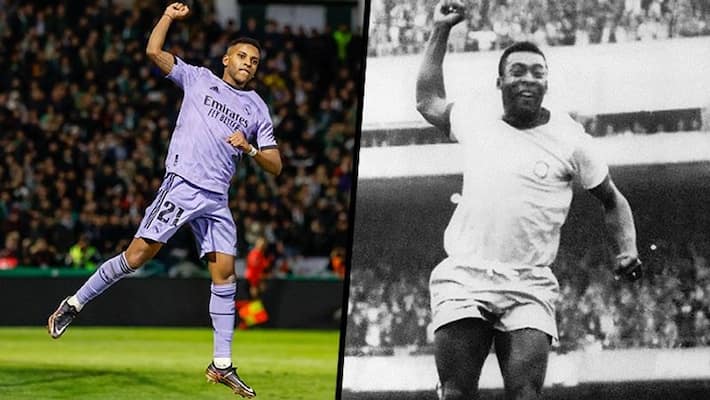 Real Madrid defeated fourth-division club Cacereno 1-0 to move to the round of 16 of the Copa del Rey on Tuesday, thanks to a sensational goal from Rodrygo, who scored in the second half of the clash and celebrated by paying tribute to the late Brazilian legend Pele.
Also read: 'Going to ask all countries to have one stadium with the name of Pele' - FIFA President Gianni Infantino
In the 69th minute of the game, the Brazilian forward opened the scoring by dribbling past two defenders inside the penalty area and firing a right-footed drive that curled into the top corner. He then celebrated by emulating Pele's signature punch in the air.
Pele passed away on Thursday at the age of 82 and was buried in Brazil on Tuesday after a massive funeral procession.
Real Madrid, together with Barcelona, Real Betis, and Valencia, were the four teams competing in the Spanish Super Cup; hence the Los Blancos was making its Copa debut in the round of 32.
Coach Carlo Ancelotti only utilised a few regular starts, resting players like Karim Benzema, Vinicius Junior, and Luka Modric. One of those starters was Rodrygo.
Also read: 'Before Pele, 10 was just a number...' - Neymar, Messi, Mbappe, Ronaldo join the world in mourning legend
Before Rodrygo scored the game's first goal, Eden Hazard was brought on as a substitute. In the previous round, top-tier team Girona had been defeated by Cacereno.
Goal-scorer Rodrygo also took to Twitter to pay his respects to Pele. "For you, KING!" noted the Brazilian star. Fans of the Real Madrid player were moved by his celebration and tweet, while a few reminded him of the missed penalty against Croatia at the Qatar World Cup 2022.
"Starboy," noted one Rodrygo fan, while a critic stated, "Should've scored that penalty against Croatia bro."
Another fan remarked, "I'm so proud of you, Rodrygo; you are getting much better," while a fourth user stated, "Don't compare them just enjoy them."
Here's a look at the reactions on the micro-blogging site:
Last Updated Jan 4, 2023, 2:16 PM IST