Erik ten Hag backs Bruno Fernandes as Manchester United captain after late goal in the win against Fulham
Manchester United's manager, Erik ten Hag, has voiced his support for Bruno Fernandes as the team's captain. This endorsement comes in the wake of questions and criticisms surrounding Fernandes' suitability for the role.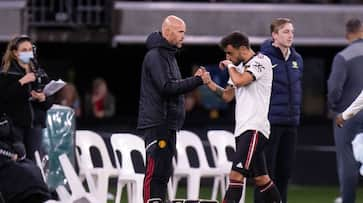 Erik ten Hag has expressed his strong endorsement of Bruno Fernandes retaining the captain's armband at Manchester United. The Portugal international sealed a 1-0 triumph against Fulham with a late game-winning goal, underlining his leadership credentials. Fernandes has faced scrutiny over his suitability as captain, with former United captain Roy Keane suggesting he may not fit the traditional captain mold. Despite the criticism, Fernandes led by example, securing all three points for United in a match marked by an otherwise unremarkable team performance.
Ten Hag addressed the criticism, saying, "I don't understand it. Everyone makes mistakes; nobody is perfect. But he does many things exceptionally well. As a captain, he consistently sets an example. You witnessed today how he worked, pressed relentlessly, and ultimately scored a crucial goal. He's of immense importance to us."
The Manchester United manager went on to emphasize Fernandes's consistent leadership qualities, saying, "Since I appointed him as captain, he has consistently displayed these qualities. Whenever he's on the pitch, he exudes energy, sets the example with his pressing, counter-pressing, and recovery work. He takes responsibility both on and off the field, contributing crucial goals. He is a captain who wants the ball, strives to create opportunities, and I am delighted with my choice."
Despite an imperfect performance, Ten Hag remains optimistic about the progress his squad is making. He noted, "It was a solid performance, and I am satisfied with the team's spirit and pressing against Fulham. They play decent football from the back, but we never allowed them to establish their rhythm. Our pressing and ball-winning were effective, but we need to be more creative in the final third. I believe our ball control and composure improved.
Also Read: Jerrmy Doku ignites the Etihad Stadium with Manchester City's 6th goal against Bournemouth
Last Updated Nov 4, 2023, 11:06 PM IST