Champions League: Arsenal shine as Trossard and Saka lead dominant win over Sevilla; WATCH highlights
Arsenal's 2-0 victory over Sevilla strengthens their Champions League knockout stage prospects, following recent domestic setbacks, with goals from Leandro Trossard and Bukayo Saka.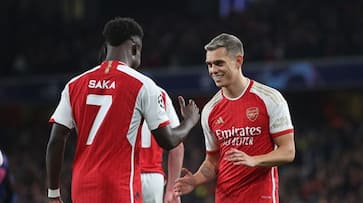 Arsenal's qualification for the UEFA Champions League 2023-24 knockout stages is imminent following their 2-0 victory against Sevilla on Wednesday, powered by goals from Leandro Trossard and Bukayo Saka. The win at the Emirates Stadium marked a rebound for Mikel Arteta's squad after consecutive domestic defeats. With three wins from four Group B games, Arsenal leads the group, standing four points ahead of second-placed PSV Eindhoven.
The team needs just one point from their upcoming matches at home against Lens and at PSV to secure a spot in the last 16. However, an injury concern arose as Saka limped off the field due to an apparent ankle twist towards the end of the game. Arteta addressed this, stating that rough treatment comes with Saka's style of play and expressed hope for his quick recovery.
Also read: 'Robbed': Outrage after controversial VAR decision in Newcastle vs Arsenal clash ends Gunners' unbeaten run
Arsenal's victory over Sevilla was a redemptive moment after a challenging period that included a League Cup defeat against West Ham and their first Premier League loss to Newcastle. The contentious VAR decision, which awarded Newcastle the winning goal, triggered Arteta's strong criticism, labeling it as "embarrassing" and a "disgrace". Arsenal, in support of their manager, condemned the decision as another instance of unacceptable refereeing and VAR errors.
The match against Sevilla was a stark contrast to the tumultuous Newcastle game, with no VAR controversies. Arteta praised his team's performance, emphasizing their aggression, commitment, and efficient ball recovery, highlighting these factors as instrumental in their victory. He expressed satisfaction with their display, particularly at home, against Sevilla, demonstrating control and dominance throughout the game.
Sevilla's coach, Diego Alonso, admitted Arsenal's superiority in the match and accepted criticism for his team's poor performance. Despite the defeat, he focused on the upcoming derby against Real Betis, aiming to turn their fortunes around with maximum effort.
Arteta emphasized the necessity for his team to be ruthless and make opponents "suffer" for a successful Champions League run this season. Arsenal adhered to this directive, outplaying Sevilla with incisive play, particularly from Saka and Gabriel Martinelli. The breakthrough came from a well-orchestrated move culminating in Trossard's goal. Arteta's trust in Trossard as the central striker paid off in the absence of injured players.
While Kai Havertz, with only one goal this season, had glimpses of impact, it was Saka and Martinelli who sealed the win with the second goal. Martinelli's precise pass set up Saka for a composed finish, highlighting their contribution to Arsenal's success, lessening the team's dependency on Havertz for goals presently.
Last Updated Nov 9, 2023, 10:54 AM IST