'Robbed': Outrage after controversial VAR decision in Newcastle vs Arsenal clash ends Gunners' unbeaten run
Newcastle's controversial 1-0 victory over Arsenal in the Premier League on Saturday, marked by VAR decisions, heated disputes, and Mikel Arteta's dismay, halts Gunners' unbeaten streak.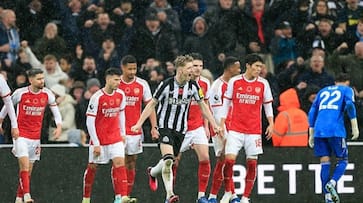 Newcastle halted Arsenal's undefeated run in the Premier League 2023-24 by clinching a contentious 1-0 victory on Saturday, wherein VAR allowed Anthony Gordon's goal, causing Mikel Arteta to criticize the defeat as "shameful." The match saw Joelinton's shove on Arsenal's Gabriel in the build-up to Gordon's close-range goal, sparking debate over a potential foul and whether the ball had crossed the line before Joe Willock's cross. 
The game was rife with disputable instances in a highly charged clash at St James' Park. Arsenal's Kai Havertz and Newcastle's Bruno Guimaraes were both lucky to avoid red cards in the first half.
"The result should not be what it is. Embarrassing what happened, how this goal stands, in the Premier League, this league we say is the best in the world," Arteta said. "I've been 20 years in this country and now I feel ashamed. It's a disgrace. There's too much at stake here."
In the aftermath of their EFL Carabao Cup exit at West Ham early this week, Arsenal's back-to-back defeats dealt a severe blow to their championship ambitions. Mikel Arteta's squad currently stands in third place, trailing leaders Manchester City by three points, while a potential win by Tottenham against Chelsea could widen the gap to five points, moving them into the top spot.
Meanwhile, Newcastle's triumph concluded an eventful week for Eddie Howe's sixth-ranked team, having previously eliminated Manchester United from the Carabao Cup at Old Trafford. 
Howe disagreed with Arteta's assessment of the winner, saying: "I haven't seen anything other than what I saw at the time. It looked a good goal to me. It's a massive win, full credit to players. It was a battling performance."
The initial half of the game was characterized by intense physicality rather than creative spark, with both sides engaging in forceful tackles and relentless pressing.
Despite the frenzied pace, the attacking efforts lacked precision and finesse, leading to a lack of clear opportunities, including Newcastle's failure to produce a shot within the first 30 minutes. Arsenal, too, struggled to pose any significant threat to Newcastle's goalkeeper Nick Pope, displaying limited clinical efficiency.
The tension peaked as Havertz made a reckless challenge, causing Longstaff to fall, triggering a scuffle between the teams. Havertz received a booking from referee Stuart Attwell, causing frustration among Longstaff, Gordon, and Schar, all booked for contesting the decision.
Arsenal made a rare incisive move with Martinelli's shot, saved by Pope, but the first half ended on a sour note due to Guimaraes' contentious actions. Guimaraes elbowed Jorginho, kicked the ball at Havertz, and faced retaliation from Rice but somehow avoided punishment.
Despite Rice's close chance after a failure to clear Martinelli's cross, Newcastle controversially seized the lead after Willock retrieved Murphy's loose shot by the corner flag. The ball was nearly out, but Willock crossed, leading to Joelinton's push on Gabriel, allowing Gordon to score from close range.
Arsenal vehemently protested to Attwell, but VAR favoured Newcastle on three counts, ruling no out-of-play ball, no foul by Joelinton, and no offside by Gordon. Despite dominating possession, Arsenal failed to convert in the box, suffering their first defeat of the season.
Following this controversial goal, several football pundits and fans spoke extensively over the VAR decision. Here's a look at how they reacted:
Last Updated Nov 5, 2023, 1:11 PM IST