Shimla to Manali: 7 places to visit when in Himachal Pradesh
Explore Himachal Pradesh's diverse beauty with 7 must-visit destinations. From Shimla's colonial charm to Spiti Valley's rugged landscapes, this article guides you through the state's enchanting treasures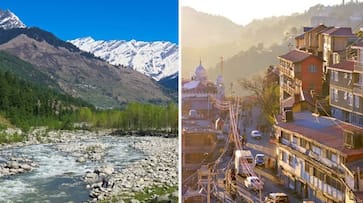 Nestled in the lap of the mighty Himalayas, Himachal Pradesh is a paradise for travelers seeking solace in the midst of breathtaking natural beauty. With its snow-capped peaks, lush green valleys, pristine lakes, and vibrant culture, this northern Indian state offers a plethora of experiences that will leave you awe-inspired. Let's explore seven must-visit places in Himachal Pradesh, each with its unique charm and allure.
1. Shimla: The Queen of Hills
Shimla, the capital of Himachal Pradesh, is a captivating hill station that retains the charm of the British era. The Mall Road, Ridge, and Christ Church are some of the must-visit attractions. Shimla's cool climate, scenic landscapes, and colonial architecture make it a popular destination throughout the year.
Shimla, often referred to as the "Queen of Hills," is a delightful destination that has been attracting travelers for generations. Its colonial charm is evident in the architecture of its buildings, including the iconic Christ Church. A leisurely stroll along the bustling Mall Road offers an array of shopping and dining options, and the Ridge provides panoramic views of the surrounding hills.
2. Manali: Adventure and Serenity
Nestled in the Kullu Valley, Manali is a haven for adventure enthusiasts and nature lovers alike. Surrounded by towering mountains, lush forests, and the Beas River, it offers opportunities for trekking, paragliding, and skiing in the Solang Valley. The serene beauty of Manali makes it an ideal destination for those seeking relaxation.
Manali's allure lies in its diverse offerings. Adventure seekers can indulge in activities like river rafting, ziplining, and snowboarding in the Solang Valley. For a more relaxed experience, one can visit the Hidimba Devi Temple, known for its unique architecture amidst deodar forests. The Old Manali area provides a bohemian atmosphere with quaint cafes and shops, perfect for unwinding.
3. Dharamshala: The Land of the Dalai Lama
Dharamshala, with its serene landscapes and Tibetan influence, is a destination that offers a spiritual retreat. The presence of the Dalai Lama and the Tibetan government-in-exile in McLeod Ganj adds to its cultural significance. Travelers can explore Tibetan monasteries, visit the Namgyal Monastery, and enjoy trekking in the Dhauladhar range.
Dharamshala's unique blend of Indian and Tibetan cultures creates a peaceful ambiance that is perfect for meditation and self-discovery. The Namgyal Monastery, home to Tibetan monks, is a place of spirituality and learning. A trek to Triund offers panoramic views of the Dhauladhar mountains, and you can even extend your journey to the stunning Kareri Lake.
4. Kullu: The Valley of Gods
Kullu, often referred to as the "Valley of Gods," is a picturesque region known for its lush green valleys, apple orchards, and the vibrant Dussehra festival. The Beas River flows through the valley, providing opportunities for river rafting and trout fishing. The town of Manikaran, known for its hot springs and Sikh Gurudwara, is also a must-visit.
Kullu's natural beauty is captivating, with its terraced fields and dense pine forests. The Dussehra festival, celebrated with grand processions and cultural performances, is a unique experience for visitors. Manikaran's hot springs are believed to have healing properties, and the Sikh Gurudwara adds a spiritual dimension to the visit.
5. Dalhousie: The Swiss of India
Dalhousie, with its lush meadows, pine-clad valleys, and colonial architecture, is often called the "Swiss of India." This hill station offers a peaceful retreat from the hustle and bustle of city life. Popular attractions include Khajjiar, often referred to as the "Mini Switzerland of India," and the St. John's Church.
Dalhousie's serene ambiance makes it an ideal destination for those seeking tranquility. Khajjiar, with its lush green meadows and a picturesque lake, offers opportunities for picnics and nature walks. St. John's Church, adorned with beautiful stained glass windows, is a testament to the town's colonial heritage.
6. Spiti Valley: The Land of Lamas
Spiti Valley, located in the rain shadow of the Himalayas, is a high-altitude desert paradise. It is known for its barren yet stunning landscapes, ancient monasteries, and challenging trekking trails. Key attractions include the Ki Monastery, Chandratal Lake, and the thrilling drive on the Manali-Leh Highway.
Spiti Valley's remote and rugged beauty is a draw for adventurers and nature enthusiasts. The Ki Monastery, perched atop a hill, offers breathtaking vistas and insights into Buddhist culture. Chandratal Lake, with its pristine waters and surrounding mountains, is a camping and stargazing paradise. The journey on the Manali-Leh Highway is an adventure in itself, offering mesmerizing views of the Himalayas.
7. Chamba: The Unexplored Gem
Chamba is a lesser-known gem in Himachal Pradesh, nestled amidst the Dhauladhar and Pir Panjal ranges. This town boasts ancient temples, traditional Pahari architecture, and the annual Chamba Rumal Exhibition. Bhuri Singh Museum and Chamunda Devi Temple are notable attractions.
Chamba's unspoiled beauty and historical significance make it a hidden treasure. The Bhuri Singh Museum houses an impressive collection of Pahari miniature paintings and artifacts. The Chamunda Devi Temple, dedicated to the goddess Chamunda, is an architectural marvel and a center of religious devotion. The annual Chamba Rumal Exhibition showcases intricate hand-embroidered textiles, adding a cultural touch to your visit.
Himachal Pradesh is a land of diverse landscapes, cultures, and experiences. Whether you seek adventure in the mountains, spiritual solace in monasteries, or the charm of colonial-era hill stations, Himachal Pradesh has it all. Each destination offers a unique perspective on this enchanting state, making it a must-visit for travelers of all kinds. Plan your journey to Himachal Pradesh, and let its natural beauty and cultural richness leave you spellbound.
ALSO READ: Food to Mood: How nutrition helps your mental well-being
Last Updated Sep 27, 2023, 7:34 PM IST