Brazil beauty pageant: Furious husband smashes pageant winner's crown after wife announced runner-up
The winner, Emannuelly Belini, represented the municipality of Várzea Grande.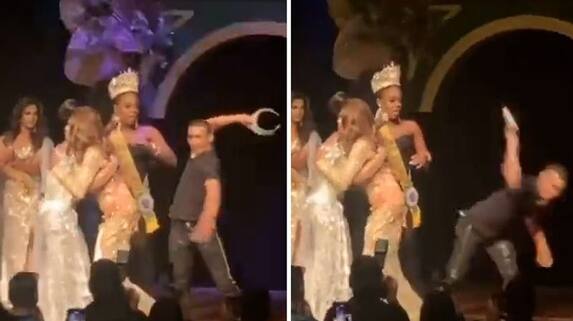 A horrifying occurrence at an LGBTQIAP+ beauty pageant was captured on camera, and it has gone viral. In the video, an enraged husband is shown wrecking havoc on stage after learning that his wife came in second. Brazilian competitors competed in the Miss Gay Mato Grosso 2023 pageant, which had contestants from various cities. Emannuelly Belini, the winner, represented the Várzea Grande municipality.
ALSO READ: Rihanna looks ravishing as she flaunts her baby bump in these photos (PICTURES)
Some individuals have compared this episode to the violence that took place at the inaugural Miss Sri Lanka contest in New York City in 2022. The enraged husband of Cuiabá's Nathally Becker, the second runner-up, stormed onto the stage as the crowning ceremony got underway. The crown that was intended for Belini was violently grabbed by him, and he tossed it to the ground, breaking it into pieces. As they saw the dramatic scene, the audience gasped in awe. Quickly stepping in, pageant security led the irate husband off the stage. The incident's video instantly went viral online and received a lot of views. 
The Miss Gay Mato Grosso pageant coordinator, Malone Haenisch, issued a statement denouncing the husband's aggressive actions. Haenisch reassured everyone that the judges' selection of Belini as the winner was fair, and she expressed compassion for Becker while emphasising that she was not to blame for her husband's behaviour. Haenisch further stated that the incident has been reported to the pageant's legal counsel, and the proper legal action would be done. Haenisch nonetheless congratulated Emannuelly Belini on becoming Miss Gay Mato Grosso 2023 despite the interruption.
ALSO READ: Pushpa 2: Makers reveal new snap from essential schedule wrap with Fahadh Faasil; SEE PIC
Last Updated Jun 1, 2023, 8:00 PM IST