Greenpeace Day 2023: Celebrating a legacy of environmental activism
Greenpeace Day 2023 celebrates the influential history and global significance of Greenpeace's environmental activism, inspiring collective action for a sustainable future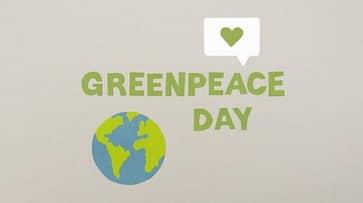 In the world's ongoing battle for environmental conservation and protection, one organization stands as an enduring symbol of relentless dedication and unwavering commitment: Greenpeace. Founded in 1971, Greenpeace has been at the forefront of global environmental activism, tirelessly advocating for the health of our planet. Each year, on Greenpeace Day, we celebrate the legacy and significant contributions of this organization, recognizing its role in fostering environmental awareness and driving positive change.
History
Greenpeace's roots trace back to a small group of passionate activists who embarked on a mission to confront nuclear testing in the Arctic. Their journey captured the world's attention and marked the birth of a global movement. Over the decades, Greenpeace has fearlessly confronted numerous environmental crises, including deforestation, climate change, and ocean pollution.
One of Greenpeace's most iconic moments came in 1985 when their Rainbow Warrior ship was bombed by French intelligence agents while docked in New Zealand, highlighting the lengths some would go to protect harmful practices. However, this act of aggression only fueled Greenpeace's resolve to expose environmental wrongs and seek justice for the planet.
Significance
Greenpeace Day serves as an annual reminder of the organization's enduring impact. It prompts us to reflect on the profound changes Greenpeace has catalyzed in environmental policy, corporate practices, and public awareness. Through their daring actions, such as scaling oil rigs or hanging banners from iconic landmarks, Greenpeace has consistently held governments and corporations accountable for their ecological footprints.
Greenpeace's unwavering dedication to peaceful protest, scientific research, and public advocacy has pushed governments to take action on critical issues. They've helped to establish protected marine reserves, contributed to the phasing out of harmful chemicals, and played a pivotal role in shaping international agreements like the Paris Agreement.
Moreover, Greenpeace Day is a call to action for individuals worldwide. It reminds us that collective action can bring about transformative change. As we celebrate this day, we are encouraged to join the ranks of environmental stewards, adopting sustainable practices in our daily lives and supporting organizations like Greenpeace that work tirelessly to safeguard our planet.
ALSO READ: Skin Bounty: 5 surprising benefits of Curry Leaves in increasing softness
Greenpeace Day 2023 is not just a celebration of an organization but a celebration of the collective power of passionate individuals who strive to protect the Earth. It is a day to honor the history, significance, and ongoing mission of Greenpeace in preserving the planet for current and future generations. Together, we can continue their legacy of environmental activism, ensuring a brighter and greener future for all.
ALSO READ: International Day of Democracy: Day, history, significance
Last Updated Sep 15, 2023, 6:37 PM IST