Skin Bounty: 5 surprising benefits of Curry Leaves in increasing softness
As previously noted, curry leaf powder is high in antioxidants, which helps promote new cell growth while also reducing the effects of premature ageing. Curry leaf powder has good qualities that make your face glow and shine and is fantastic for treating acne.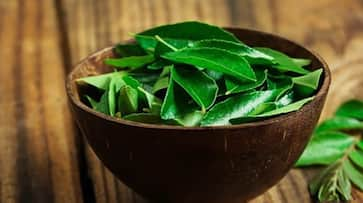 Curry leaves have been a part of the Indian kitchen since childhood and time immemorial to enhance the taste of food items in various cuisines. Curry leaves are full of several health benefits. However, it gives a unique flavour and makes for a great skin rejuvenator by making it healthy and glowing. Curry leaves have excellent properties to give your skin a glow and shine and are apt for treating acne. Curry leaves are high in antioxidants with anti-microbial properties and some essential vitamins for the skin, such as vitamins A and C, which are very helpful in keeping the skin healthy. Curry leaves, commonly used in Indian cuisine for their distinct flavour, offer several benefits for your skin when applied topically.
ALSO READ: Healthy Life: 5 best Coffee drinks to give you a daily Morning Boost
Here are 5 surprising skincare benefits of Curry Leaves:
1. Acne Treatment:
Curry leaves have anti-inflammatory and antibacterial properties that can help combat acne breakouts. You can create a paste by grinding fresh curry leaves and applying it to your face. Leave it on for about 15 minutes before rinsing with water.
2. Skin Toning:
These leaves can be used to make a natural toner. Boil a handful of curry leaves in water, let it cool, and strain the liquid. Apply this as a toner to help tighten your skin and reduce pores.
3. Hyperpigmentation:
Curry leaves are rich in antioxidants, which may help in reducing the appearance of dark spots and hyperpigmentation on your skin. You can apply a paste made from crushed curry leaves and a few drops of lemon juice to the affected areas.
4. Anti-Ageing:
The antioxidants in curry leaves can also help slow down the ageing process of your skin by preventing oxidative stress. Regular application may help in reducing the formation of wrinkles and fine lines.
5. Moisturization:
Curry leaves can be used in face masks or creams to provide natural moisturization to your skin. When combined with other ingredients like yoghurt or honey, they can help keep your skin hydrated and supple.
ALSO READ: Health: 5 dangerous effects of excessive Walnut consumption
Last Updated Sep 14, 2023, 11:08 PM IST