Durga Puja 2023: Here's what the festivals first day indicates
Durga Puja is a multi-day festival that typically spans over five to ten days. The first day of Durga Puja is known as Mahalaya and holds significant cultural and spiritual importance. Mahalaya marks the beginning of the Durga Puja preparations and indicates several key aspects of the festival.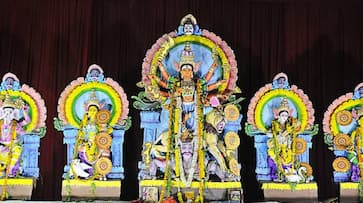 Invoking Goddess Durga, Mahalaya is considered the day when Goddess Durga descends to Earth. Devotees believe that on this day, she begins her journey from her heavenly abode to join her family on Earth. It marks the official start of the festival. Here's what the first day tells. 
Pitru Paksha Observance
Mahalaya also coincides with the end of 'Pitru Paksha', a 16-day period in the Hindu lunar calendar dedicated to honoring and paying respects to deceased ancestors. On this day, many people offer 'tarpan' (ritual offerings) to their ancestors in the form of food and water to seek their blessings and release them from any residual obligations.
Chanting of Mahalaya Mantras
People observe Mahalaya by listening to and reciting Mahalaya mantras, particularly the 'Mahishasura Mardini Stotram'. This sacred recitation celebrates the victory of Goddess Durga over the demon Mahishasura.
Preparations for Durga Puja
Mahalaya signifies the beginning of elaborate preparations for Durga Puja. Artisans and craftsmen start creating the idols of Goddess Durga and her family for installation in beautifully decorated pandals (temporary temples).
Celebration of Homecoming
Mahalaya is also associated with the "homecoming" of Goddess Durga, who is considered a daughter returning to her parents' home. It symbolizes the joy of reunion with loved ones.
Cultural Programs
On Mahalaya, many radio stations and television channels broadcast special programs and renditions of Mahalaya mantras and songs, which have become a tradition for many families to listen to.
Spiritual Awakening
Mahalaya is a time for spiritual reflection, awakening, and invoking the blessings of the divine to remove obstacles and challenges from one's life.
In summary, Mahalaya, the first day of Durga Puja, signifies the beginning of the festival, the invocation of Goddess Durga, and the start of preparations for the elaborate celebrations. It also holds significance as the conclusion of Pitru Paksha and a time for spiritual reflection and renewal.
Last Updated Oct 19, 2023, 3:54 PM IST