Dhanteras 2023: Glance at date, history and significance of this auspicious festival
Dhanteras, known as Dhanatrayodashi or Dhanvantari Trayodashi, is a significant Hindu festival celebrated two days before Diwali, the festival of lights. According to religious beliefs, it was on this day, during the churning of the ocean (Samudra Manthan), that Goddess Lakshmi appeared.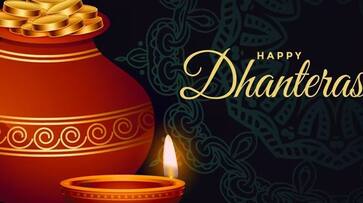 In Hinduism, Dhanteras are of an important significance. This day is also known as Dhantrayodashi. Dhanteras is considered an extremely auspicious day. Some people have doubts about the date of Dhanteras. So, let's find out the date of Dhanteras and the auspicious timing for the puja. We will also learn about the auspicious timing for purchasing on this day. Dhanteras falls on the 13th day of the Krishna Paksha (waning phase of the moon) in the Hindu month of Ashwin, usually in October or November, according to the Gregorian calendar.
ALSO READ: Diwali 2023: USA to Canada to UK-10 countries where people celebrate Deepavali
Date and muhurat:
The Kartik month's Trayodashi date begins on November 10. It starts at 12:35 p.m. and ends on November 11 at 1:57 p.m. Therefore, Dhanteras will be celebrated on November 10. On this day, the Pradosh Kaal will be from 5:30 p.m. to 8:08 p.m., considered auspicious to worship Goddess Lakshmi, Lord Kubera, and Lord Dhanvantari.
History:
Dhanteras is also considered the birthday of Dhanvantari, the god of health and healing. Devotees pray to Lord Dhanvantari, seeking his blessings for good health. The word "Dhanteras" itself has been derived from Dhan. Dhan means wealth, and "Teras", which refers to the 13th day. On Dhanteras, people worship Goddess Lakshmi, the goddess of wealth, to invite prosperity and financial well-being into their homes.
Significance:
Dhanteras has several mythological significances. One popular legend is about the churning of the ocean (Samudra Manthan), where Dhanvantari, the physician of the gods and an incarnation of Lord Vishnu, emerged with a pot of amrita (nectar of immortality) during the churning. This day is celebrated as Dhanteras, symbolizing the advent of health and wealth.
Dhanteras marks the beginning of the Diwali festivities, setting a joyous tone for the subsequent days. It is a time of reverence, gratitude, and celebration, highlighting the importance of wealth, health, and spiritual prosperity in people's lives.
ALSO READ: Diwali 2023: What is Dev Diwali? How is it different from Deepavali
Last Updated Nov 7, 2023, 7:41 PM IST