Daily Haircare: 5 unexpected benefits of Grapeseed Oil
Grapeseed oil is a lightweight and versatile oil that offers several benefits for maintaining shiny, healthy hair. Grapeseed oil is an excellent moisturizer and has anti-inflammatory properties. It may help control dandruff caused by a flaky and dry scalp. It moisturizes your scalp and hair and works well as a massage oil.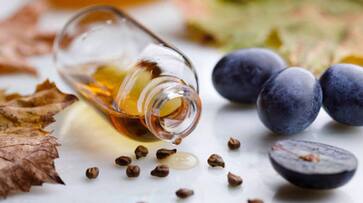 When it is related to and concerning your hair, grapeseed oil is an excellent choice because it contains vitamin E, flavonoids, linoleic acid, and OPCs. These are pivotal for healthy hair growth and vitality. Grapeseed oil can help thicken and strengthen hair and even promote your hair growth as no artificial or expensive ingredients are needed. Grapeseed oil is used in hair, as a natural remedy for baldness for people with a receding hairline problem. Linolenic acid is said to stimulate hair growth. The oil contains flavonoids called procyanidin oligomers which are antioxidants that are powerful in nature. Moisturizing is one of the main properties of grapeseed oil. The oil contains nutrients that promote healthy hair growth. It is versatile, and you can use it in various ways. You can use grapeseed oil to strengthen hair roots, hydrate the scalp, and nourish your hair. 
ALSO READ: Skin bounty: 5 intriguing ways in which Soy Milk is a powerhouse
Here are five reasons why grapeseed oil is great for your hair:
1. Moisturization:
Grapeseed oil is rich in essential fatty acids, particularly linoleic acid. This makes it an excellent natural moisturizer for your hair. It penetrates the hair shaft, locking in moisture and preventing dryness and frizz. Regular use can result in softer, more manageable hair.
2. Strengthens Hair:
The nutrients in grapeseed oil, including vitamin E and antioxidants, help strengthen hair follicles and promote hair growth. It can reduce breakage and split ends, leading to thicker, stronger hair.
3. Adds Shine:
Grapeseed oil has a light texture that doesn't weigh hair down. It adds a natural shine to your hair, making it look glossy and lustrous. This can be especially beneficial for dull or damaged hair.
4. Dandruff Control:
Grapeseed oil has antifungal properties that can help combat dandruff and flaky scalp issues. Massaging the oil into your scalp and leaving it on for some time before shampooing can help alleviate these problems.
5. Heat Protection:
Grapeseed oil can act as a natural heat protectant. Before using heat styling tools like straighteners or curling irons, you can apply a small amount of grapeseed oil to your hair to protect it from high temperatures and reduce the risk of damage.
ALSO READ: Skincare Hacks: 5 energizing ways in which Wheat Germ Oil is a powerhouse
Last Updated Aug 22, 2023, 8:03 PM IST