Craving delicious, healthy Corn spinach sandwich? Check out this detailed recipe
Indulge in the perfect harmony of flavors and health with our Corn and Spinach Sandwich recipe. A delectable fusion of sweet corn kernels, earthy spinach, and gooey mozzarella, nestled between toasted whole-grain bread slices. Quick to make, delightful to savor – a nutritious delight for any mealtime craving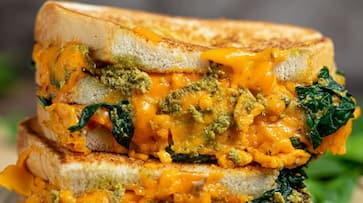 When it comes to quick and wholesome meals, few options are as versatile and satisfying as a well-crafted sandwich. Bursting with flavors and nutrients, a Corn and Spinach Sandwich is a delightful fusion of taste and health. This scrumptious sandwich combines the sweetness of corn kernels with the earthy goodness of spinach, nestled between two slices of toasted bread. Whether you're looking for a hearty breakfast, a satisfying lunch, or a light dinner, this recipe caters to your cravings while ensuring a nutritious meal.
Ingredients:
1 cup corn kernels (fresh, frozen, or canned)
1 cup fresh spinach leaves, washed and chopped
1 small onion, finely chopped
1 small tomato, sliced
1/2 cup grated mozzarella cheese
4 slices of whole-grain bread
1 tablespoon olive oil
1 teaspoon garlic, minced
1/2 teaspoon red pepper flakes (optional)
Salt and pepper to taste
Instructions:
Sauté the Vegetables:

Heat olive oil in a pan over medium heat.
Add minced garlic and sauté for a minute until fragrant.
Add chopped onions and sauté until they turn translucent.

Add Spinach and Corn:

Toss in the chopped spinach leaves and corn kernels. Sauté for about 2-3 minutes until the spinach wilts and the corn is tender.
Season with salt, pepper, and red pepper flakes for a hint of heat. Set aside the cooked mixture.

Assemble the Sandwiches:

Place four slices of whole-grain bread on a clean surface.
Distribute the sautéed mixture evenly onto two of the slices.
Top the mixture with mozzarella cheese and tomato slices.

Create the Sandwiches:

Place the remaining slices of bread on top to complete the sandwiches.

Grill the Sandwiches:

Preheat a pan or sandwich press over medium heat.
Lightly brush the outer sides of the sandwiches with olive oil.
Grill the sandwiches until they turn golden brown and the cheese melts, about 2-3 minutes per side.

Serve and Enjoy:

Once the sandwiches are perfectly grilled, remove them from the heat.
Let them cool for a minute before slicing them diagonally.
Serve the delicious Corn and Spinach Sandwiches warm, either as a standalone dish or with a side salad.
This Corn and Spinach Sandwich recipe seamlessly blends convenience and nutrition, making it an excellent choice for any meal of the day. With its combination of fresh vegetables, cheese, and whole-grain bread, it's a palate-pleasing way to indulge in a hearty and healthful treat.
ALSO READ: 7 unconventional wonders of Iguazu Falls
Last Updated Aug 18, 2023, 6:03 PM IST