This Kerala youth's Baahubali elephant stunt on FB Live should be a lesson to all daredevils [Video]
The Thodupuzha native should consider himself lucky to be alive after trying to imitate the elephant stunt scene from Baahubali 2
The youth, who was allegedly intoxicated, holds the elephant's tusks, steps on its trunk and attempts to clamber up
The animal decides to retaliate with a show of strength of its own, by flinging the youth in the air like a rubber ball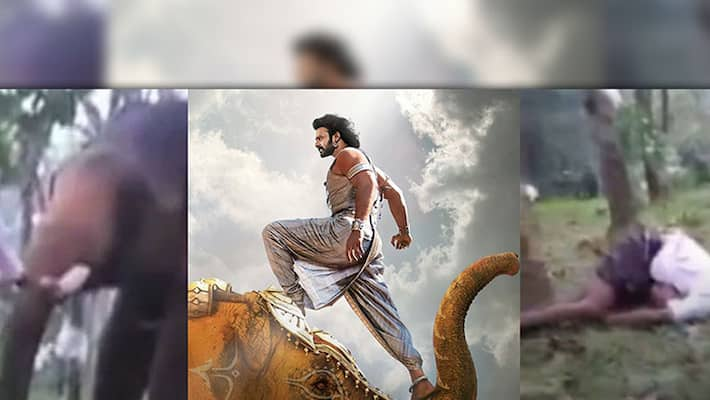 A youth hailing from Kerala learnt it the hard way that it's not easy being Baahubali in real life. 
The Thodupuzha native should consider himself lucky to be alive after trying to imitate the elephant stunt scene from Baahubali 2 by mounting a tusker via running up its trunk. 
The youth, who was allegedly intoxicated, is seen approaching the elephant and trying to befriend it by feeding him fruits. He then holds the pachyderm's tusks, steps on its trunk and attempts to clamber up.
The animal, who was friendly initially, finally decides to retaliate with a show of strength of its own, by flinging the man in the air like a rubber ball. The youth lands awkwardly a fair distance away and is found unconscious when his friends approach and check on him.
The incident, which happened on Sunday, came to light as his friends were broadcasting the stunt on Facebook Live. The video has gone viral and is being shared widely on social media platforms.
Also read: http://newsable.asianetnews.com/kerala/kerala-youth-bahubali-elephant-stunt-explains-facebook-live
Reports claim the youth was hospitalised and is currently recuperating. Here's hoping he has learnt his lesson and won't be attempting any daredevil stunts anytime soon.
Last Updated Mar 31, 2018, 6:36 PM IST