Weather alert: IMD predicts rainfall for three days in Karnataka from November 23
Karnataka anticipates a shift in weather as the Meteorological Department forecasts intensified monsoon from Nov 23-26. Expecting rainfall in southern and coastal areas, with alerts for Kodagu and Chikmagalur. Recent dry weather led to soaring temperatures above norms in multiple districts. Residents advised to brace for changing weather conditions.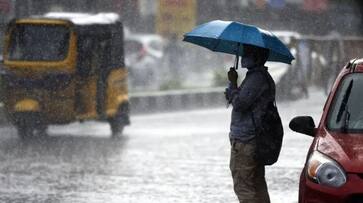 The Meteorological Department forecasts an imminent intensification of the monsoon in Karnataka, bringing anticipated rainfall to the southern hinterland and coastal districts for three consecutive days starting November 23.
After a week-long spell of dry weather coupled with weak monsoon showers, the state is poised to experience a shift in climate patterns. From November 23 to November 26, the Meteorological Department predicts rain in the southern hinterland, coastal areas, and select regions of northern Karnataka.

BBMP is conducting Animals and Birds survey in Bengaluru; here's why
With an alert issued for Kodagu and Chikmagalur districts, an expectation of heavy rainfall looms over these regions on November 23 and 24, warranting a yellow alert for precautionary measures.

Karnataka: Two daily flights between Mangaluru and Bengaluru
The recent decline in rainfall has caused temperatures to soar above normal levels in several districts across the state. On Sunday, Badami recorded 29.1 degrees Celsius, Bagalkote at 29.5 degrees Celsius, and Bengaluru City at 26.9 degrees Celsius, marking a significant rise of 3 degrees Celsius above the usual temperatures. Similarly, other areas such as Belgaum (28.8), Bangalore International Airport (27.6), HAL (27), GKVK (27.6), Chitradurga (28.3), Dharwad (29.2), Hampi (29.1), Kalaburagi (31.5), Mandya (29.2) have observed temperatures soaring above normal by 2 degrees Celsius.
The imminent shift in weather patterns brings both relief and caution, signalling the potential respite from dry weather with the promise of rain in various parts of the state. The Meteorological Department advises residents and authorities to stay alert.
Last Updated Nov 20, 2023, 12:10 PM IST