Karnataka: Two daily flights between Mangaluru and Bengaluru
Air India Express inaugurated daily flights connecting Mangaluru and Bengaluru, boosting regional connectivity. Flight IX 782 marked its maiden journey from Mangaluru to Bengaluru, celebrated with a water cannon salute and a vibrant reception. Another flight, IX 1795, operates on the Kannur-Bengaluru-Mangaluru route, extending to Thiruvananthapuram via Bengaluru, offering increased travel options.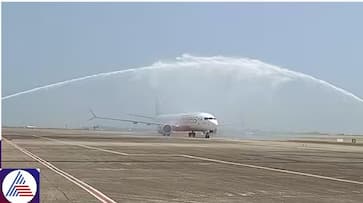 The connectivity between Mangaluru and Bengaluru received a significant boost with the commencement of daily flights by Air India Express. Flight IX 782, carrying 107 passengers along with 2 infants, marked its inaugural journey from Mangaluru to Bengaluru on Wednesday, landing at Mangaluru at 12:30 pm. Pilot Gaurav Vasist led the aircraft to the apron where a traditional water cannon salute welcomed its arrival.
The airport echoed with celebrations as the first batch of passengers left, greeted by a cake-cutting ceremony at the domestic arrival hall. Subsequently, Flight IX 678 departed for Bengaluru at 1:10 pm with 92 passengers, including a child, and a crew comprising seven members, including an observer pilot.

Karnataka govt set to introduce electric buses to Mangaluru Airport
Amidst this eventful occasion, Chief Airport Security Officer Virendra Mohan Joshi, heads of various airport departments, Air India Express, Air India, AISATS, Customs, Immigration heads, CISF representatives, and passengers on the flight illuminated the atmosphere with a traditional lamp and shared in the celebratory cakes.

Passenger alert: Automated baggage machines at KIA will not allow you to carry extra luggage; Here's why
The second flight introduced, AIE's IX 1795, operates on the route Kannur-Bengaluru-Mangaluru. Departing Kannur at 4:30 pm, it reached Bengaluru at 5:50 pm before its scheduled departure for Mangaluru at 6:25 pm, later operating as IX 792.
This flight presents a route to Thiruvananthapuram via Bengaluru, departing Mangaluru at 8:15 pm and arriving in Bengaluru at 9:30 pm. Following this layover, the flight takes off from Bengaluru at 10:20 pm, finally reaching Thiruvananthapuram, Kerala, at 11:25 pm, as mentioned in the airport's official statement.
Last Updated Nov 17, 2023, 9:55 AM IST