BBMP is conducting Animals and Birds survey in Bengaluru; here's why
BBMP initiates a biodiversity documentation drive chaired by Rakesh Singh, aiming to catalogue Bengaluru's rich biological resources. The committee's focus includes ward-wise surveys to map biodiversity, aiding conservation efforts and identifying endangered species for comprehensive habitat understanding.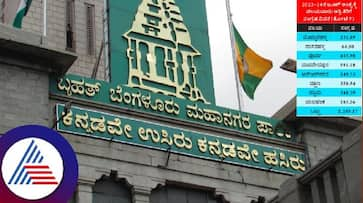 The Bruhat Bengaluru Mahanagara Palike (BBMP) is gearing up to meticulously document the city's biodiversity as it convenes its first meeting under the Biodiversity Management Committee on Friday. Trusted with the responsibility of creating a ward-wise biodiversity inventory, the committee, chaired by Administrator Rakesh Singh, aims to address the directive issued by the National Biodiversity Authority.
While other districts in the state have already submitted their biodiversity inventories to the State Biodiversity Board, BBMP faced delays due to the pandemic and administrative oversights. This Friday's meeting will mark a crucial step toward rectifying this lapse and initiating the process of documenting the city's biodiversity.

Bengaluru: Is BBMP planning to introduce monthly fees for garbage collection?
The committee's inaugural meeting holds significance, as it was meant to be convened in 2021 following the National Biodiversity Authority's directive. However, disruptions caused by the pandemic led to the postponement, impeding efforts to catalogue Bangalore's biodiversity. Now, under the leadership of Rakesh Singh, the committee will deliberate on strategies to construct the much-needed biodiversity inventory.
This inventory aims to identify and record the rich tapestry of biological resources in Bangalore. It encompasses animals, birds, trees, plants, and microorganisms, seeking data on species diversity, including domestic and other animals, medicinal plants, fruit-bearing trees, and flowering areas.

Bengaluru: BBMP goes digital by sending property tax notice, scanners along WhatsApp

The BBMP Forest Department plans to conduct a ward-wise survey to map biodiversity across the city. This comprehensive survey, to be presented to the Biodiversity Management Committee, involves staff from private agencies and enthusiastic students from schools and colleges. The focus is on species identification and documentation, rather than counting their numbers.
The creation of this inventory not only aids in understanding biodiversity habitat-wise but also serves as a tool to identify endangered species, enabling conservation planning. The primary objective of this initiative is to document the varied species of life across inhabited areas in the country and assess the abundance of organisms within Bengaluru.
Last Updated Nov 17, 2023, 1:13 PM IST