DyCM DK Shivakumar's special article on Kannada Rajyotsava: 'Karnataka is stronger today'
Karnataka DyCM DK Shivakumar pens down a special article on the occasion of Karnataka Rajyotsava 2023. He hopes that Karnataka will become a leading state in all fields and also wishes the state to become a modular state in India. He says that Karnataka has become stronger today in terms of development of various fields.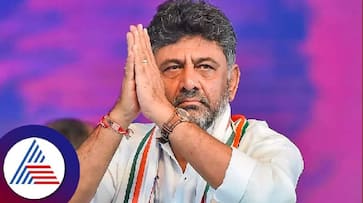 Wishing the people of Karnataka a happy 68th Kannada Rajyotsava. Our state is making rapid progress in all fields and has become the second-leading state in the country economically. Just as many great leaders, including Mahatma Gandhi, dedicated their lives to our country's freedom, many individuals have devoted their lives to building the beautiful Kannada land in independent India. Thanks to the hard work and vision of our elders, we're in a strong position in terms of development.
However, there's still much more to achieve. We are committed to elevating the economic and social conditions of every citizen. It's our personal and party's aim that no one should be deprived of essential infrastructure and a dignified life. Karnataka should emerge as a leading state in all fields. The people of our state have blessed and empowered the Congress party to work towards comprehensive development and prosperity for Kannadigas.

Karnataka Rajyotsava 2023: 68 achievers including 10 institutions selected for prestigious award; see details
Since the day our government was formed, we've been working to meet the expectations of our citizens. We've successfully implemented initiatives like Shakti Yojana, Griha Jyothi Yojana, Griha Lakshmi Yojana, and Annabhagya Yojana as promised by the state government. These public welfare schemes have significantly boosted the tourism sector. Shakti Yojana, in particular, is revolutionizing public transport and empowering women, resulting in a notable increase in the use of mass transport. The Grilahakshmi Yojana has empowered housewives and financially strengthened families, bringing relief to those affected by rising prices.

Karnataka's 50th-anniversary emblem celebrates Kannada language's essence and inclusivity
Millions of people and families across the country now enjoy a more comfortable life, but this is just the beginning of our dream for comprehensive development. We have plans to establish industries, create jobs, implement a state education policy for quality education, develop model schools with various facilities, execute housing and irrigation projects, launch the Brand Bengaluru project to transform our city into a global hub and make significant capital investments in and around Bengaluru. We're also working on projects to alleviate traffic congestion.
I have full confidence that our fellow citizens will join hands to make Karnataka a model for the entire country, fulfilling the dreams of every individual. Good luck to all.
Last Updated Nov 1, 2023, 8:44 AM IST