Karnataka Rajyotsava 2023: 68 achievers including 10 institutions selected for prestigious award; see details
The Karnataka Rajyotsava Awards for 2023 will honor 68 individuals and 10 institutions for their exceptional contributions. Recipients include Huchchamma, who donated land for a school in Koppal, and Mangalamukhi from Bidar. The awards acknowledge diverse talents, including ISRO's S. Somnath. The honorees will receive a 25-gram gold medal and a cash prize of Rs. 5 lakhs at an upcoming ceremony.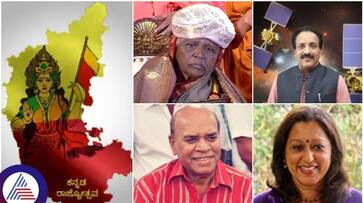 The prestigious Kannada Rajyotsava Awards for 2023 will be conferred upon 68 deserving individuals, including 10 institutions, as part of the Karnataka Rajyotsava celebrations in the state. The announcement was made by the Minister of Kannada and Culture Department, Shivraj Thandagi.
Minister Shivaraj Tangadagi revealed that the awardees include Huchchamma, who generously donated land for the construction of a government school in Koppal, and Mangalamukhi from Bidar. The selection process was rigorous, with 1,157 Rajyotsava applications received and recommendations from 26,555 people, leading to the final selection of 68 awardees. 

Karnataka's 50th-anniversary emblem celebrates Kannada language's essence and inclusivity
Speaking at a press conference, Minister Tangadagi explained that they had consulted with Chief Minister Siddaramaiah before making the selections. Notably, 10 organizations were honoured with the Rajyotsava Awards to commemorate their Golden Jubilee. This year's awards also recognized two centenarians, exemplifying the diversity of talent and contributions being celebrated.
The award bestowed on Huchchamma, who contributed land for a government school in Koppal district, underlines the importance of community service and selfless actions. Distinguished figures from various fields, including the head of ISRO and moon mission contributor S. Somnath, were among the awardees.

Puneeth Rajkumar posthumously awarded Karnataka Ratna by Rajini, Jr NTR; Ashwini Rajkumar accepted the honour
Interestingly, Huchchamma did not even apply for the award, demonstrating the genuine recognition of noteworthy deeds. Minister Tangadagi pointed out that seven to eight individuals among the awardees are recognised by the government.

The Rajyotsava Awards are esteemed for their value, comprising a 25-gram gold medal and a cash prize of Rs. 5 lakhs. The recipients hail from various regions, but the cultural city, literature, and theatre domains. Minister reassured that all deserving individuals have been recognized and the awards will be presented at a ceremony scheduled for tomorrow.
Last Updated Oct 31, 2023, 4:33 PM IST