Fire erupts in Bengaluru's Veerabhadra Nagar; blaze engulfs around 30 buses (WATCH)
A fire erupted in the Veerabhadra Nagar area of Bengaluru, engulfing several buses. Prompt response from the fire department with two fire tenders has the situation under control. Fire is spread across the stand and reportedly more than 30 buses have caught fire.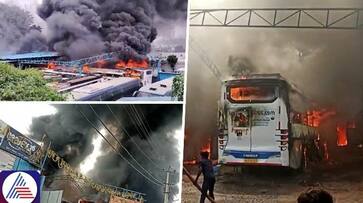 A fire accident has broken out in Bengaluru, a fire erupted in the Veerabhadra Nagar area, resulting in a blaze that engulfed several buses. The quick response of the fire department was crucial as two fire tenders promptly rushed to the scene to combat the flames. This incident follows previous fire-related tragedies in the city, including recent fires at a Bengaluru cafe and a firecracker warehouse. 
A fire consumed a fleet of buses from various travel companies that were parked for service, intended for minor maintenance tasks, in a garage. Despite extensive efforts to douse the flames with water, the fire proved relentless.

Bengaluru: Police probe viral video claiming sexual harassment at Mall
Situated on approximately three acres of land, the SV Coach bus garage is owned by Srinivas and was constructed about seven to eight years ago. Firefighters are actively engaged in ongoing operations at the site as they grapple to extinguish the blaze. Tragically, only about five to six buses were successfully rescued from the raging fire, while the remainder of the buses succumbed to the flames.
The fire rapidly consumed more than ten buses, triggering panic among the people in the vicinity. Fortunately, it is a relief to report that no casualties were reported in the aftermath of the incident.

Bengaluru: Two children drown in water sump in under-construction building on Bannerghatta road
The exact cause of the fire remains under investigation, but it is suspected to have originated from the use of cutting and welding machines, which may have generated sparks. Initially, the flames engulfed two buses. The fire is being spread across the stand, as per the sources, more than 30 buses have reportedly caught the fire blaze. 
The situation has now been brought under control, and authorities are actively engaged in determining the origin of the fire. Damage assessments are currently underway, with further updates on the incident expected as the investigation progresses. Firefighters battled the blaze continuously to bring it under control.
Last Updated Oct 30, 2023, 4:02 PM IST