Bengaluru: Police probe viral video claiming sexual harassment at Mall
A viral video allegedly shows an incident of sexual harassment at a Bengaluru mall, leading to a police investigation. No formal complaint has been filed yet, but the authorities are examining the video footage to determine the incident's details.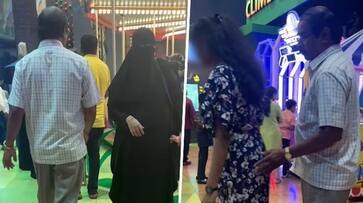 A video depicting an incident of alleged sexual harassment at a mall in Bengaluru has gained significant attention on social media. The video, which has now gone viral, purportedly captures an incident that occurred yesterday evening at a mall.
Local authorities, including the Magadi Road police, have initiated an investigation into the matter. It's worth noting that as of now, no formal written complaint has been lodged regarding the incident. The police have launched their inquiry based on the video footage.

BREAKING: Fire erupts at Veerabhadra Nagar in Bengaluru, buses ablaze (WATCH)
A user named yesh_fitspiration shared the incident on Social media, stating "Recorded this incident today evening around 6:30 in Bangalore mall. This man in the video was doing such things to the random women and girls around there. First, when I saw him doing that he was in a very crowded area, I felt suspicious about him and followed him recording a video. Then I got this. Went to security and complained about this, then we went in search of him but we missed. So informed the mall management and security, and they said they'll try to find that person and take action. Shame of such people."
The precise location within the Bengaluru mall where the incident took place has not been confirmed. However, the police are diligently examining the video to ascertain the details of the alleged sexual harassment.
Last Updated Oct 30, 2023, 1:18 PM IST