Kerala News Highlights: 3-year-old dies after root canal treatment in Kunnamkulam; Family alleges foul play
Kerala News Highlights: 3-year-old dies after root canal treatment in Kunnamkulam; Family alleges foul play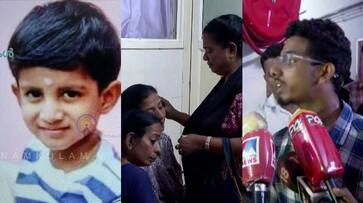 4:00 PM: Kerala man and his girlfriend commit suicide in Bengaluru
A Kerala man and his girlfriend committed suicide in Bangalore. The deceased have been identified as Abil Abraham (29), a native of Idukki, and Soumani Das(20), a native of West Bengal. Neighbors and police said that the two were close and Abil and Soumini had been living together in a flat in Doddagubbi for the past few months.
---
2:24 PM: Kerala High Court eases firework ban at religious places
The Kerala High Court set aside the order to uphold the ban on firecrackers at night in all religious places. The court also clarified the "odd time" mentioned in the earlier ruling by stating that crackers shall not be burst between 10 p.m. and 6 a.m. unless specific orders are given for each religious place.
---
2:13 PM: Dollar smuggling case: Prime accused Swapna Suresh, M Sivasankar fined Rs 65 lakh
The Kochi customs commissioner Rajendra Kumar has imposed a fine of Rs 65 lakhs on Swapna Suresh, prime accused and former Principal Secretary to CM, Sivasankar, in the gold smuggling case. According to the customs commissioner's report, Sivasankar was aware of all the illegal activities centered around the consulate. A fine of Rs 65 lakh has been imposed on Sandeep, Sarith, Swapna Suresh and M Sivasankar.
Read More: ollar smuggling case: Customs imposes fine of Rs 65 lakh each on accused Swapna Suresh, M Sivasankar
---
1:58 PM: 3-year-old dies after root canal treatment in Kunnamkulam; family alleges foul play
A three-and-a-half-year baby died in Malankara Hospital in Kunnamkulam. The deceased has been identified as Aron. The parents of the child alleged medical malpractice. The child was admitted to the hospital for root canal treatment. He was admitted to the hospital at 4 p.m. yesterday.
Aaron, the son of Kevin and Felja, a native of Thrissur Mundur, died. The family members alleged that the baby is almost four years old and the hospital authorities say that the baby had a heart attack after the root canal surgery and they do not understand how this could happen. They also alleged that if the baby dies after coming for root canal surgery, it is nothing but medical malpractice. Meanwhile, Hospital Administrative Officer Dixon said that they will cooperate with the police in the inquest and post-mortem proceedings and the cause of death is suspected to be heart attack.
 
---
1:15 PM: Migrant worker's death turns out to be murder in Wayanad; co-worker arrested
 Tamil Nadu native, identified as Arul, was allegedly killed during an altercation with his co-worker in Vythiri of Wayanad district on October 30. The police initially registered the case as an unnatural death. However, in the detailed investigation, it was proven to be a murder. The accused was identified as Ramesh, a native of Tamil Nadu.   
---
12.30 PM: Muvattupuzha double murder case: Accused arrested from Odisha
The accused in the double murder case in Muvattupuzha, Ernakulam was arrested from Odisha. The accused, Gopal Malik, killed two migrant workers Mohantho and Dipankar Basuma, natives of Assam. The workers of the wood mill were found dead with neck injuries. Malik was on the run after the crime. 
Read More: Kerala: Two migrant workers found dead in Muvattupuzha; police confirms murder
---
12.10 PM: Gold worth Rs 49 lakh seized at Kannur airport
The Customs seized 818.5 grams of gold worth Rs 49 lakh from Ashif, a native of Kozhikode, at Kannur airport. He came from Sharjah. 
---
11:40 AM: Malappuram hotel shut down after chicken head found in biryani order
The food safety department has shut down a hotel in Malappuram after a chicken head was found in the biryani. The chicken head was found in food bought from a hotel named Porotta Stall in Muthur. In the investigation, it was found that the hotel does not have a certificate from the Food Safety Department
---
11:26 AM: Kalamassery blast: DNA test result confirms first deceased as Leona Paulus
The DNA results of the first woman to die in the Kalamassery blast are out. The test results confirmed that the woman was Leona Paulus. The body was brought to the hospital in an unrecognizable condition. At the same time, the authorities informed that the post-mortem will be conducted soon.
---
11.15 AM: Hours after wife's suicide, man takes his own life in Alappuzha
Arun Babu (31), a Pandalam native, was found dead after jumping into a river, hours after his wife committed suicide on Saturday. His wife Liji (25) committed suicide by hanging at her residence and the reason for suicide is not yet known. After she was pronounced dead, Arun Babu went missing and his car was found abandoned near a bridge in Vettiyar. The police found traces of blood inside the car as well as near the river bank. After cutting his vein, he is suspected to have jumped into the river.
---
10.35 AM: Kerala: Contractors who took up Kochi Corporation work struggle as arrears worth crores yet to be cleared
The government contractors who completed the construction projects in the state's local governments are in debt. The contractors are facing a difficult choice regarding their next jobs, as the debts owed by the Kochi Corporation alone surpass Rs 100 crore. Local construction projects are beginning to suffer greatly from government arrears and delays in plan funding disbursement.
Read More: Kerala: Contractors who took up Kochi Corporation work struggle as arrears worth crores yet to be cleared
---
10.00 AM: KSU organises state-wide education bandh today after clash with police
As a form of protest against the police lathi-charge against the student leaders of the Congress party in the state capital on Monday, the Kerala Students Union (KSU) has organised a state-wide education bandh on Tuesday.
---
9.45 AM: High school student dies of heart attack during pleasure trip
A Class 10 student died of a heart attack during a pleasure trip to Mysore. Sri Sayana, a student of Pulapetta MNKM High School, suffered a heart attack.
---
9:22 AM: CM Pinarayi Vijayan extends birthday wishes to Kamal Haasan
Kerala Chief Minister Pinarayi Vijayan extended his birthday greetings to Kamal Haasan on X, formerly Twitter. He wrote, " Happy birthday dear @kamalhaasan. As an accomplished artist par excellence and as an astute social and political activist, you have carved out a significant space in the hearts of the people. Wish you many more happy and healthy years ahead in all spheres of your endeavour.
---
9.00 AM: Heavy rains to lash Kerala today; Yellow alert in 3 districts
The India Meteorological Department (IMD) has warned that there is a possibility of isolated heavy rains in the state today. The IMD stated that the cyclonic circulation is likely to strengthen as a low pressure over the central-eastern Arabian Sea on November 8. A yellow alert has been announced in three districts including Pathanamthitta, Idukki, and Ernakulam today.
---
8:43 AM: Man held for throwing stones at Swift bus in Palakkad Expressway
A passenger smashed the window of a Swift bus by pelting stones on the Palakkad expressway. Vijayakumar, a native of Tamil Nadu, smashed the window of a Swift bus on the Wayanad-Pashani route by pelting stones. He created a stir inside the bus and after getting out, he threw stones at the bus. He was taken into police custody
---
8:38 AM: Woman hacked to death by husband in Palakkad
A woman was hacked to death by her husband in Nallepilly, Palakkad, today. The deceased has been identified as Urmila (32). Both of them lived separately after the fight. 
---
8:30 AM: High Court to hear plea against ban on fireworks at worship places
The High Court will consider the appeal filed by the state government against the single bench judgment of the High Court banning fireworks today. The government has filed an appeal seeking the cancellation of the interim order. The government has stated in the petition that the single bench examined matters beyond the subject of consideration.
---
8.16 AM: Youth stabbed to death in Thrissur; 2 others injured
During a robbery attempt, a youth was stabbed to death on Monday (Nov 6) night in Diwanjimoola, Thrissur. The deceased Sreerag (26), is an Olarikkara resident. His two brothers also suffered injuries and are undergoing treatment at a hospital.
Read More: Kerala: Robbers go on stabbing spree in Thrissur; one youth killed, 2 injured
Last Updated Nov 7, 2023, 5:27 PM IST