Kerala: Contractors who took up Kochi Corporation work struggle as arrears worth crores yet to be cleared
Contractors in local bodies grapple with mounting debt, with arrears exceeding Rs 100 crore in Kochi Corporation alone. Delays in government payments and plan fund disbursements hinder grassroots construction projects.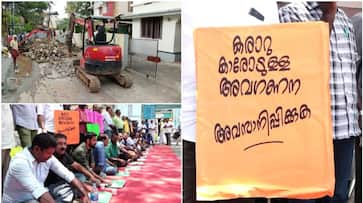 Kochi: The government contractors who completed the construction projects in the state's local governments are in debt. The contractors are facing a difficult choice regarding their next jobs, as the debts owed by the Kochi Corporation alone surpass Rs 100 crore. Local construction projects are beginning to suffer greatly from government arrears and delays in plan funding disbursement.
Also read: Kerala: Robbers go on stabbing spree in Thrissur; one youth killed, 2 injured
Johnson is a contractor who has worked for Kochi Corporation for twenty years. Johnson finished the road construction at Kadavanthra 2.5 years back for a total of Rs 8 lakh. Kochi Corporation owes Johnson Rs 95 lakhs for different projects involving the building of the city's roadways, culverts, and canals. He is forced to visit the corporation office to obtain the pending amount. According to Johnson, the project was finished using interest funds and is currently in a complete crisis.
The COVID outbreak caused years' worth of arrears to pile up. The only arrears until July 2020 that were paid out two months ago were due to the strike's intensification. The contractors are being informed by the Kochi Corporation that they are out of money. The pension and GST obligations of the state government are Rs 250 crore. As per the Kochi Mayor, he agreed to look into the matter once he receives the funds. However, the contractors retorted that they would not return to work if there was no money. No one is taking on new tasks in spite of the requests of counsellors.
The case is not limited to Kochi. August is the deadline for paying the local bodies the second installment of the plan fund. However, the Kannur Corporation also has not yet received this sum. The contractors are owed Rs 7,94,000,00. According to estimates from the All Government Contractors Federation, there is a potential debt of Rs 14,000 crore from a number of government departments, including Public Works, Water Authority, and KIIFB, in addition to local bodies. The contractors are poised to embark on a full-scale strike if the arrears are not paid, despite the government's claims that there is no financial crisis and that the money is being provided on a priority basis.
Also read: Kerala Jail Violence: Who triggered clashes in high-security Viyyur Central Prison?
Last Updated Nov 7, 2023, 11:10 AM IST