Kerala Jail Violence: Who triggered clashes in high-security Viyyur Central Prison?
Violence erupted in Viyyur Central Jail on Sunday (Nov 5) when TP Chandrasekharan murder case convict Kodi Suni-led gang attacked inmates and officials. A case has been registered for inciting riot and attempt to murder.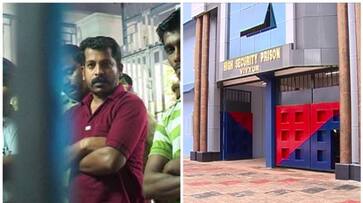 Thrissur: A fight between prison inmates at the high-security Central Prison in Viyyur escalated into violence on Sunday (Nov 5) evening. When attempting to mediate, three jail officials suffered injuries. TP Chandrasekharan murder case convict Kodi Suni-led inmates unleashed violence inside the prison and attacked the officials. Around 10 prisoners Kodi Suni, Kattunni Ranjith, Poocha Saju and Mibu Raj were behind the clashes. Jail workers Arjun, Omprakash and Vijayakumar were injured. Arjun, who is undergoing treatment at the medical college, is seriously injured. The convicts reportedly used sharp objects to attack. 
At first, a fight broke out between Suni's gang and natives from Thiruvananthapuram who were accused in a murder case. Officials from the prison then moved the residents of Thiruvananthapuram to an alternate location. Later, Suni and his gang arrived at the premises and launched an attack on them.
According to the FIR, the violence in the high-security prison was an attempted riot. Kodi Suni and ten others have been booked for attempted murder and destruction of public property. The Viyyur police have registered a case under the charges of attempt to murder, destruction of public property and incitement to riot.
Kattunni Ranjith, the accused in the murder case who was transferred from Thiruvananthapuram to Viyyur High Security Jail started the riot by issuing death threats. The officials were brutally thrashed with iron rods. Later, the group led by Kodi Suni destroyed the guard room. Chairs, table, phone, wireless equipment and telephone booth were smashed. Kattunni Ranjith is the first accused and Kodi Suni is the fifth accused. 
As the attack got out of control, the staff in the jail sought the help of the staff of the nearby Central Jail and District Jail. Deputy Superintendent Sriraman and other employees Vinod Kumar, Om Prakash and Arjun who came to stop the riot were injured in the attack.
Last Updated Nov 6, 2023, 11:16 AM IST