Himachal Election 2022 Exit Polls predict BJP may break 37-year-old trend
In the 2017 assembly election, the turnout for the hill state was recorded at 75.6 per cent. It can be seen that the voters are eager to know who is likely to form the government as the counting of votes will be held on December 8.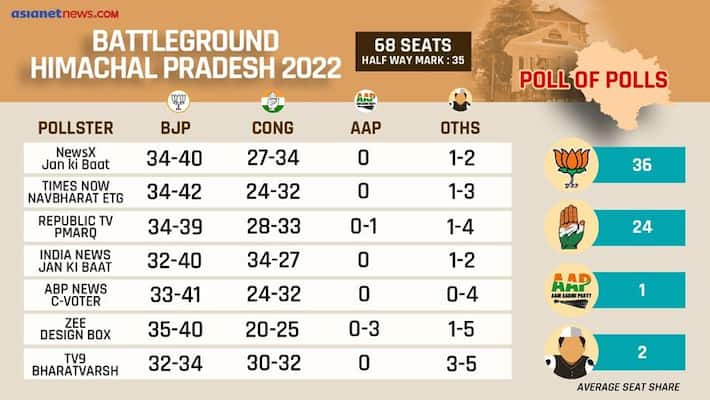 The BJP could break the 37-year-old trend in Himachal Pradesh and retain power in the state, with exit polls suggesting that the party may reach the majority mark in the 68-member assembly.
Also Read: Gujarat Election 2022 Exit Polls show BJP to win big, Congress seat share to decline
Multiple exit polls suggested that the BJP was set to come back to power, buckling the past trend that saw the incumbent parties not returning to power. The Congress is seen to be giving the BJP a close fight but falling short of the 35 seats needed to secure a majority.
Here are the Exit Polls for the Himachal Pradesh Assembly Election 2022:
NewsX Jan Ki Baat
BJP: 34-40
Congress: 27-34
AAP: 0
Others: 1-2
Times Now Navbharat ETG
BJP: 34-42
Congress: 24-32
AAP: 0
Others: 1-3
Republic TV- PMARQ
BJP: 34-39
Congress: 28-33
AAP: 0-1
Others: 1-4
India News - Jan ki Baat
BJP: 32-40
Congress: 27-34
AAP: 0
Others: 1-2
Zee DesignBox
BJP: 35-40
Congress: 20-25
AAP: 0-3
Others: 1-5
TV9 Bharat Varsh
BJP: 32-34
Congress: 30-32
AAP: 0
Others: 3-5
In the campaign, the BJP it banked on the popularity of Prime Minister Narendra Modi, its development agenda and the promise of more projects being unlocked by a double-engine government (the BJP is in power both at the centre and in the state).
Himachal Pradesh Election 2017?
In 2017, the hill state went to polls on November 9. BJP won 44 seats, while Congress managed to win 21 seats. Three seats were stocked in others accounts. Compared to 2012, BJP gained 18 seats, while Congress lost 15 seats. BJP's vote share was 48.8%. At the same time, the vote share of Congress was 41.7%. With this, BJP announced Jairam Thakur as the Chief Minister of Himachal Pradesh.
Also Read: MCD Election 2022 Exit poll: AAP projected to score massive win
Last Updated Dec 5, 2022, 10:24 PM IST