Gujarat Election 2022 Exit Polls show BJP to win big, Congress seat share to decline
The BJP is set to sweep Gujarat, with the Congress as a distant second, and Arvind Kejriwal's Aam Aadmi Party (AAP) will finish third, predicted an aggregate of exit polls. The BJP will win its seventh successive term in Prime Minister Narendra Modi's home state, the exit polls predicted.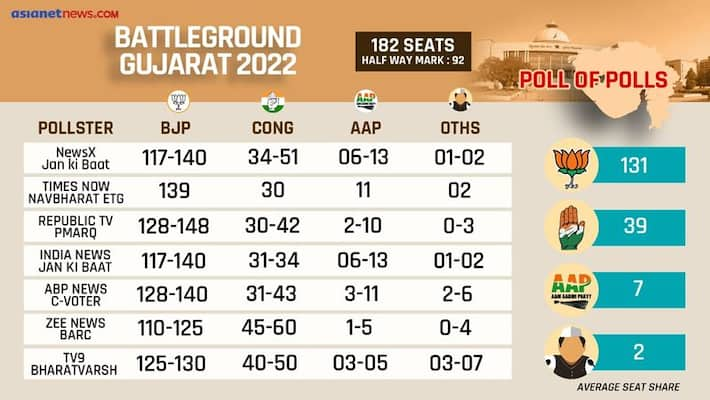 Exit polls on Monday handed the Bharatiya Janata Party a massive victory in the elections to the 182-member Gujarat Assembly. A number of exit polls suggested that BJP seat share will touch a record margin of seats, compared to the 99 seats the party won in the 2017 elections.
On the other hand, the Congress party is likely to witness significant embarrassment as it is projected to go down from its 2017 tally of 77 seats to around 50-55 seats. The Congress party's loss seems to favour the Aam Aadmi Party, with the latter projected to win around 10 seats.
Check out the Exit polls here
NewsX - Jan Ki Baat
BJP: 117-140
Congress: 34-51
AAP: 06-13
Others: 01-02
Republic-P Marq
BJP: 128-148
Congress: 30-42
AAP: 2-10
Other: 0-3
India News:  Jan ki Baat
BJP: 117-140
Congress: 51-34
AAP: 06-13
Others: 01-02
TV9 Bharat Varsh
BJP: 125-130
Congress: 40-50
AAP: 03-05
Others: 03-07
Times Now Navbharat ETG
BJP: 139
Congress: 30
AAP: 11
Others: 02
ABP News C-Voter
BJP: 128-140
Congress: 31-43
AAP: 3-11
Zee News BARC    
BJP: 110-125    
Congress: 45-60    
AAP: 1-5    
Others: 0-4
According to exit polls, the BJP is expected to win its seventh consecutive term in the state where Prime Minister Narendra Modi hails from. That would be the BJP's highest showing since 2002 when it triumphed easily in Gujarat months after the rioting that claimed 1,000 lives.
In the Gujarat Assembly elections 2017, the BJP won 99 out of 182 seats to retain power, while the Congress won only 77 seats. In Himachal Pradesh, the BJP won 44 out of the 68 seats, whereas the Congress secured 21 seats. The BJP retained power in both state elections, which were majorly bipolar contests between the BJP and Congress. The entry of AAP this time has turned the contests into three-cornered battles.   
Last Updated Dec 5, 2022, 10:21 PM IST