'Finish Pakistan, We are Indians': Kashmiri youth's demand after Anantnag terror killings goes viral - WATCH
Colonel Manpreet Singh, Major Ashish Dhonchak and Jammu and Kashmir Deputy Superintendent of Police Humayun Bhat laid down their lives on Wednesday during an encounter with terrorists in Anantnag's Kokernag area.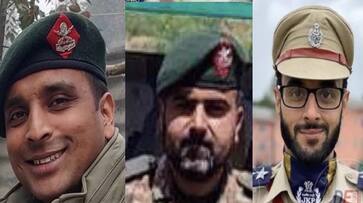 Even as India mourns the tragic death of three bravehearts in Jammu and Kashmir during an encounter with terrorists in Anantnag's Kokernag area on Wednesday, the voice of several Kashmiri youths have voiced their anger against terrorism and demanded that the Pakistan be 'finished'. 
Colonel Manpreet Singh was commanding a unit that was trying to flush out terrorists from the forested area of Kokernag when he came under heavy fire. Major Ashish Dhonchak and Jammu and Kashmir's Deputy Superintendent of Police, Humayun Bhat, laid down their lives along with Singh in the encounter.
As the three bravehearts were laid to rest on Thursday, along with millions of Indians, a bunch of Kashmir youths have called for the decimation of Pakistan. In a video shared by Major General Raju Chauhan, VSM, (Retd), a young Kashmiri man said, "Finish Pakistan. Decimate Pakistan. We live in India. We are Indians. We are Kashmiri Indians.
"Listen to the emotions of a Kashmiri youth against terrorism by Pakistan. He wants Pakistan to be decimated," the caption of the video shared on X, formerly Twitter, read.
3 Bravehearts killed in Anantnag encounter laid to rest
In a poignant and heart-wrenching moment, six-year-old Kabir, the son of Colonel Manpreet Singh, who tragically fell victim to terrorists in Kashmir on Wednesday, paid his final respects to his father. The emotional scene unfolded at their residence in Haryana's Panchkula, as Kabir stood next to his young sister, both attempting to salute their fallen father. Friends and family provided support as they stood beside Colonel Singh's coffin. On Friday evening, Colonel Singh was laid to rest in Mohali's Mullanpur.
In a separate ceremony, Major Dhonak received a dignified farewell in his hometown of Binjhol village in Panipat on Friday, with full military honors.
Jammu and Kashmir's Deputy Superintendent of Police (DySP), Humayun Bhat, was also bid a solemn farewell as he was laid to rest in his hometown of Budgam on Thursday. Hundreds of mourners gathered to pay their respects, and among them was Humayun's father, Ghulam Hasan Bhat, a retired Inspector General of Police, who placed a wreath on his son's remains. Humayun's wife, holding their two-month-old daughter, stood among the mourners, making the moment even more poignant.
The tragic events unfolded as a joint team of the Army and the state police embarked on an operation Tuesday evening to uncover the hideout of two Lashkar-e-Taiba (LeT) terrorists in the forested area of Kokernag. However, the terrorists detected the approaching force and opened fire with assault rifles. Colonel Singh, leading from the front, along with Major Dhonak and DySP Humayun Bhat, were struck by bullets during the exchange.
The operation extended into its third consecutive day on Friday, as security personnel employed drones and quadcopters to track and neutralize the armed assailants. These solemn events serve as a somber reminder of the sacrifices made by brave individuals who dedicated their lives to preserving peace and security in the region.
Last Updated Sep 15, 2023, 10:01 PM IST