Bengaluru: Release of accused BESCOM officials before victim cremations sparks outrage
Negligence by BESCOM staff led to the tragic electrocution of a mother and her baby in Bengaluru's Whitefield. Five individuals were swiftly arrested, but concerns arose over their quick release on bail amid ongoing funeral arrangements. Questions on safety measures and prompt actions linger after the heartbreaking incident.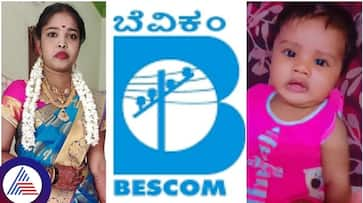 The tragic incident near Ofarm Circle in Bengaluru's Whitefield area on Sunday morning resulted in the heartbreaking demise of a mother and her 9-month-old baby due to the alleged negligence of BESCOM staff. The incident shocked the city, prompting the immediate arrest of five individuals connected to this mishap, attributed to the negligence of the officers involved.
The victims, a mother from Tamil Nadu, along with her husband and child, had recently arrived in Whitefield. Tragically, while walking along the footpath, the mother inadvertently stepped on a broken electric wire early Sunday morning. The contact with the live wire led to a fatal electric shock, causing both the mother and her infant to collapse, resulting in their tragic deaths due to severe burns.

Karnataka: BESCOM hikes electricity bill by 85p per unit starting December
The incident has raised questions about the negligence of BESCOM officials responsible for maintaining power lines. Initial investigations suggest that the broken wire was not promptly addressed or inspected by BESCOM staff, leading to a lack of appropriate safety measures. Ideally, in such scenarios, the system is designed to automatically cut power at the main junction in case of line damage. However, it appears that this safety protocol was not followed in this instance.
Despite the severity of the incident and the arrests made in connection with the case, there had been concerns raised regarding the swift release of the accused officers on bail within a mere 24 hours. The victims' funeral arrangements are still pending, prompting criticism about the officers' expedited release even before the victims' cremation.
Last Updated Nov 20, 2023, 5:15 PM IST