Bengaluru doctors remove nail cutter from man's stomach after 8 years
A man who swallowed the nail cutter over alcohol influence forgot about its existence. After 8 long years, doctors extract the rust covered nail cutter from his stomach. The surgery, conducted through laparoscopy, was able to remove the foreign object from his stomach.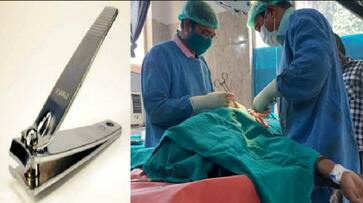 A man swallowed a nail cutter and then forgot all about it until eight years later when doctors, while treating him for a stomach ache discovered the grooming tool in his body, and subsequently removed it. The doctors of Manipal hospital were in for a shock after they took an X-ray of a 38-year-old man who complained of abdomen pain. The doctors removed the nail cutter from the patient's abdomen through laparoscopy. The man revealed that he had swallowed the nail cutter eight years ago and forgot about it, further adding to the disbelief. 
The man, who resides in Sarjapur, was admitted to a rehabilitation centre for alcoholism. Not able to endure the pain, he swallowed the nail-cutter. The centre staff gave him a couple of bananas and the man believed the nail cutter had gone out. Few days ago, after experiencing severe stomach pain, he decided to see a doctor. Upon close examination, the nail cutter was revealed inside his belly. 
The man led a normal life after he came out of the rehabilitation centre. He further said that he was afraid of informing about this episode to his parents or sister, fearing their retribution. As there was no pain, he did not inform his wife either. 
Dr. Lohith U, Consultant for Surgical Gastroenterology, Bariatric, and GI Oncology at Manipal hospital said that this was one of the rarest cases he has encountered in his life. "It is a regular size nail cutter that adults use. Since the patient had undergone two abdomen surgeries previously, there were multiple adhesions in his gastrointestinal tract, which could have been one reason that favoured the lodgment of the nail cutter in the intestine," he added. The nail cutter was rusted as it was in the stomach for eight years. 
Last Updated Aug 22, 2023, 7:39 PM IST