Asianet News Exclusive: Experience certificate scandal hits Kerala Police band
A firm named Jeevan Music Academy was found issuing experience certificates to the candidates applying for recruitment to the police band in Neyyanttinkara, Thiruvananthapuram. The PSC is conducting an examination of musical instrument players to recruit to the police band.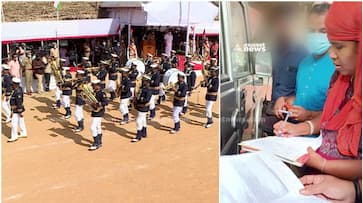 Thiruvananthapuram: The Asianet News team Special investigation has revealed that a firm in Thiruvananthapuram has been providing experience certificates to candidates to recruit them for police band, who don't even have experience in playing instruments and Rs 3000-Rs 5000 were being charged. 
Massive irregularities were detected being done covertly during the Public Service Commission (PSC) examinations to recruit people for the police band. It was found that those who are not trained in musical instruments were given fake work experience certificates by a firm based in Neyattinkara in Thiruvananthapuram district. 
Also read: Kerala to receive widespread rainfall today; IMD issues yellow alert in 11 districts
To join the band team, which is a division of the police force, the PSC sent an application invitation. The requirements for applying were higher education plus two and prior musical instrument playing experience. The PSC required the candidates to upload their one-year experience certificate on the website after the written exam. A certificate or grade list from the institution where music studies were pursued was not requested by the PSC, though.
Without doing any additional verification procedures, Jeevan Sangeeth Academy, a company, charges candidates between Rs. 3,000 and Rs. 5,000 to attest their certificates at the district registrar's office. Knowing that certificates would be given out, the Asianet News team approached Asha, the academy's principal, for a certificate and asked that they appear before the District Registrar's office. She quickly signed the certificate in front of the Registrar's office after the team requested a certificate for two people. Asha charged the Asianet News team Rs. 3000 and said that going forward, Rs. 10,000 would be levied.
Both the seal and the certificate cost Rs. 3000 per copy. PSC is currently holding the exam for performing musical instruments. Asha further affirmed that the PSC interview panel included members of the company and could impart winning strategies. 
The team also observed a significant flow of applicants having certificates from Jeevan Music Academy. Each candidate received the academy's attested certificate around ten minutes before the office closed.
Following the Asianet News special report, the Special Branch of the police have started inspection at the Academy.
Last Updated Sep 9, 2023, 12:25 PM IST