UT 69: Raj Kundra claims food porn is only kind he has been part of (Watch video)
Raj Kundra, known for his legal troubles, surprises fans by serving street food, hinting at his past, as he promotes his upcoming film UT69.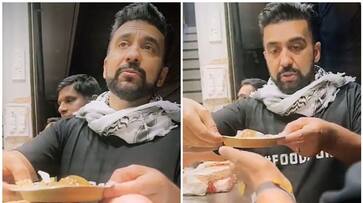 Businessman and filmmaker Raj Kundra recently posted a video on his social media. In the video, he was seen serving street food to people. He also added a playful caption to the video, making a reference to the legal case he was involved in and went to jail for, which was related to adult content, " #foodporn the only 'porn' I have ever been a part of! #chandnichowk #ut69 #film #food "
Many people reacted to the video. One person wrote, "tahalka In Delhi ❤️❤️❤️ keep working 👏" Another comment said, "Bhai Dil se bataau mai aapka bahot baada fan ho gaya aap ho bade sacche aur acche insaan 👏" (I have become a big fan of yours; you are a very genuine and good person). A third comment read, "Ut69 block buster film 🎞."
Raj Kundra was in legal trouble in 2021 because of his alleged involvement in an adult content case, which led to his time in jail. On the professional front, Raj Kundra has been promoting his upcoming project, UT69, which is said to humorously depict his experiences during his time behind bars. Raj Kundra is married to Bollywood actress Shilpa Shetty, and they have two children together, a son named Viaan, and a daughter named Samisha.
ALSO READ: Unprecedented crossover: Cristiano Ronaldo walks past Salman Khan at a boxing event in Saudi Arabia (WATCH)
Last Updated Oct 30, 2023, 5:52 PM IST