Unprecedented crossover: Cristiano Ronaldo walks past Salman Khan at a boxing event in Saudi Arabia (WATCH)
In an epic crossover of Bollywood and football, India's film industry superstar Salman Khan and iconic footballer Cristiano Ronaldo came in the same frame as they attended a boxing event in Saudi Arabia.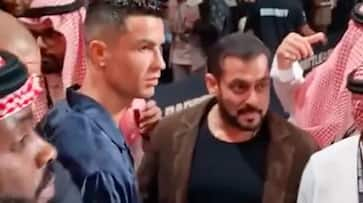 In a remarkable fusion of Bollywood and football, iconic Indian actor Salman Khan and legendary footballer Cristiano Ronaldo were captured together at a boxing match in Saudi Arabia. Both celebrities were in attendance to witness the clash between Tyson Fury and Francis Ngannou. While it remains unclear if Salman and Ronaldo engaged in any conversation during the event, a video circulating on social media reveals a unique encounter. In the footage, Cristiano can be seen walking past Salman before warmly embracing the renowned 'Ronaldo de Nazario'.
Interestingly, it has been disclosed that Ronaldo is an avid admirer of the former UFC champion Ngannou. Upon Ronaldo's initial relocation to Saudi Arabia, he and Ngannou happened to stay at the same hotel, leading to a memorable interaction. Ngannou recounted the experience during an interview with TNT Sports, saying, "We were sitting at the Four Seasons Hotel, which is where [Ronaldo] was living at the time. We met one of his associates named Richie, who mentioned, 'Cristiano is a big fan of Francis.' Subsequently, Cristiano called us and invited us up to where he was by the pool. I was a bit surprised, thinking, 'I hope this isn't a prank.'"
Ngannou continued, "Upon arriving, we saw Cristiano, who had been eagerly anticipating our visit. We exchanged greetings and pleasantries, and he was very down-to-earth and welcoming. He even shared that he and his family would wake up at 4 am to watch my fights. It was truly unexpected that he knew about me, but he's quite familiar with my work."
The meeting between Cristiano Ronaldo and Francis Ngannou at the Four Seasons Hotel was a memorable encounter that highlighted the universality of sports and its ability to bring together individuals from different domains.
Also Read: Sergio Perez's heartbreak at Mexican Grand Prix: A career-defining moment (WATCH)
Last Updated Oct 30, 2023, 5:20 PM IST