The Railway Men: R. Madhavan reveals first look of mini-series on Bhopal gas tragedy
Netflix and Yash Raj Films partner for "The Railway Men" streaming from Nov 18. Directed by Shiv Rawail, it's inspired by the Bhopal Gas Leak, highlighting Indian railway employees' heroism during the tragedy, starring R. Madhavan and Kay Kay Menon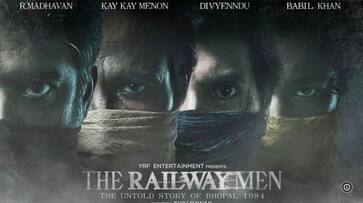 The Railway Men, starring renowned actors R. Madhavan and Kay Kay Menon, is set to make its debut on Netflix on November 18th this year. This groundbreaking collaboration between Netflix and Yash Raj Films (YRF) represents a significant milestone in the world of content creation. The Railway Men serves as the first offering from this dynamic partnership to be available for streaming on Netflix. The core objective of this collaboration is to revolutionize the entertainment landscape by delivering unique Indian stories to a global audience. The series is poised to reach viewers worldwide on the aforementioned date.
Directed by Shiv Rawail, a talented director making his debut with this project, The Railway Men unfolds against the backdrop of the Bhopal Gas Leak, widely regarded as the worst industrial disaster in the world. The narrative draws inspiration from real-life accounts and presents a thrilling portrayal of courage, paying homage to humanity and bravery. It narrates the unsung heroics of the dedicated railway employees of India who went above and beyond the call of duty to rescue countless innocent citizens trapped in a city in distress.
ALSO READ: Koffee With Karan: Did Deepika Padukone influence Ranveer Singh to tone down his fashion choices? Read
The Railway Men boasts an impressive ensemble cast, and it will leave viewers with the powerful message that even in the darkest of times, courage can be discovered in the most unexpected places. The eagerly awaited series will be available for streaming on Netflix starting November 18, 2023, and the screenplay has been penned by Aayush Gupta.
Last Updated Oct 26, 2023, 1:40 PM IST